A Beginner's Guide to San Francisco Attractions
Visiting San Francisco for the first time can simultaneously be entertaining and overwhelming. This picturesque waterfront city has a never-ending list of things to see and do for all types of visitors. Whether you enjoy history and culture or sports and outdoor activities—San Francisco has more than enough to keep first-time visitors busy.
San Francisco Charter Bus Company offers first-time groups a personalized way to see the city. Booking a private charter bus rental means your tour group can craft an itinerary with all of the stops you want. Your family, friends, or organization can travel throughout San Francisco whenever and wherever you'd like. All you have to do is create an itinerary and contact the San Francisco Charter Bus Company rental team to book a ride to each and every stop. A minibus or charter bus rental will keep your group comfortable and keep you traveling according to your own schedule. Renting a San Francisco charter bus is quick and easy—just call (415) 404-6456 for a free, personalized quote!
Need help getting your itinerary started? Depending on your group's interests, you'll want to prioritize San Francisco's must-see destinations a bit differently. Here are a few essential spots for first-time San Francisco visitors to see:
History
Golden Gate Bridge and The Presidio
Golden Gate Bridge Welcome Center Address: Golden Gate Bridge, Coastal Trail, San Francisco, CA 94129
Phone: (415) 426-5220
Not only is the Golden Gate Bridge the most famous landmark in San Francisco, but it's also among the most-photographed locations in the world. The crimson suspension bridge opened in 1937 over the foggy Golden Gate strait and has been the city's most iconic landmark ever since. It's highly recommended that your group walks the 1.7-mile bridge, if possible. If you have group members with mobility concerns, you can shuttle across on your charter bus instead.
You'll want to start your trip at the Golden Gate Bridge Welcome Center on The Presidio. You can snap photos and start your trek from the visitor center or opt to explore The Presidio before you walk the bridge. The 1,500-acre park was once a military post and first-time visitors often explore the historic greenspace. Since the park is so big, you'll want to prioritize seeing spots like Fort Point National Historic Site, Baker Beach, Crissy Field, and The Walt Disney Family Museum.
Charter bus rental parking: Short-term parking for charter buses can be found at the Golden Gate Bridge Visitor Center, the Crissy Field Overlook, and along Lincoln Boulevard at Battery East.
Alcatraz Island
Alcatraz Landing Address: Pier 33, San Francisco, CA 94133
Phone: (415) 438-8320
As one of the most infamous prisons in the United States, Alcatraz Island has held big-time criminals like Al "Scarface" Capone, George "Machine Gun Kelly" Barnes, and Alvin "Creepy" Karpis over the 29 years it was in operation as a federal penitentiary. Before it was a federal prison, the famed island served as a military fort and prison during the American Civil War. After Alcatraz closed as a federal penitentiary, the island was famously occupied by Native American activists from 1968 to 1971 in order to protest the oppression of native peoples under the failed Treaty of Fort Laramie.
Today, the historic island is managed by the National Park Service and offers tours of the island exclusively available by ferry. All official tours of Alcatraz Island depart from Pier 33 and are offered by Alcatraz City Cruises LLC. Self-guided audio tours and ranger-led tours are available of several historic points of interest on the island, including the Cellhouse, Recreation Yard, and Officer's Club.
Charter bus rental parking: Metered street parking is available around Fisherman's Wharf near Pier 33. Oversized parking spaces can be found around the 100 block of North Point Street.
Outdoor Activities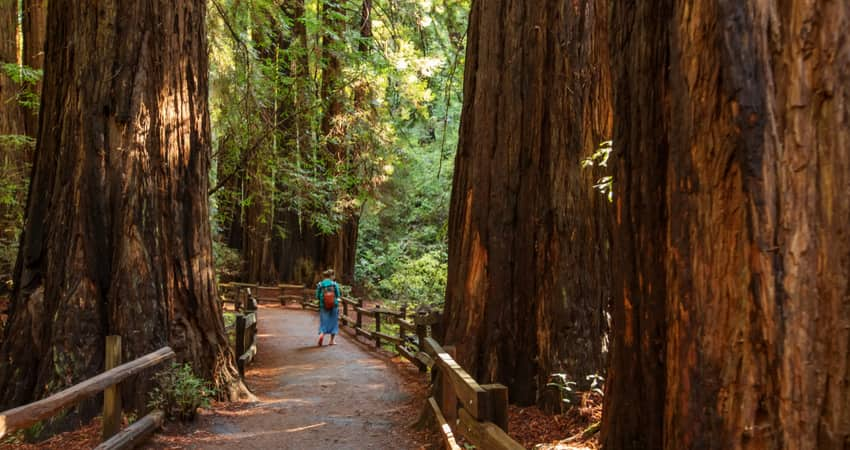 Muir Woods National Monument
Address: 1 Muir Woods Rd, Mill Valley, CA 94941
Phone: (415) 561-2850
The Muir Woods National Monument is a must-visit location for nature lovers. As a part of California's Golden Gate National Recreation Area, this breathtaking natural space is filled with towering redwood trees and scenic hiking trails. This National Monument is less than a one-hour drive from San Francisco and is a popular afternoon or full-day trip from the city.
There are miles of hiking trails throughout the park, but the Main Trail is the best option for first-time visitors and guests that want an easy hike. The Main Trail from the visitor center is paved and accessible for guests with mobility devices or strollers.
Charter bus rental parking: On-site parking is not available for vehicles over 35-feet long. So if you're traveling by charter bus, your bus driver will need to drop everyone off before parking off-site.
Golden Gate Park
Address: 501 Stanyan St, San Francisco, CA 94117
Phone: (415) 831-2700
Golden Gate Park is one of San Francisco's most popular green spaces and is home to beautiful outdoor attractions like the Japanese Tea Garden, the Conservatory of Flowers, the San Francisco Botanical, and landmark windmills. The 1,000-acre park is also home to top museums like the California Academy of Sciences and de Young Museum.
Visiting Golden Gate Park can easily take a full day, but if you're just looking to kill a few hours—stroll throughout the park and snap a few photos. If you want to cool off after a long walk around the park, make a stop at Ocean Beach just across Great Highway.
Charter bus rental parking: Bus loading zones can be found on JFK Drive and paid parking is available at Concourse Drive.
Arts and Culture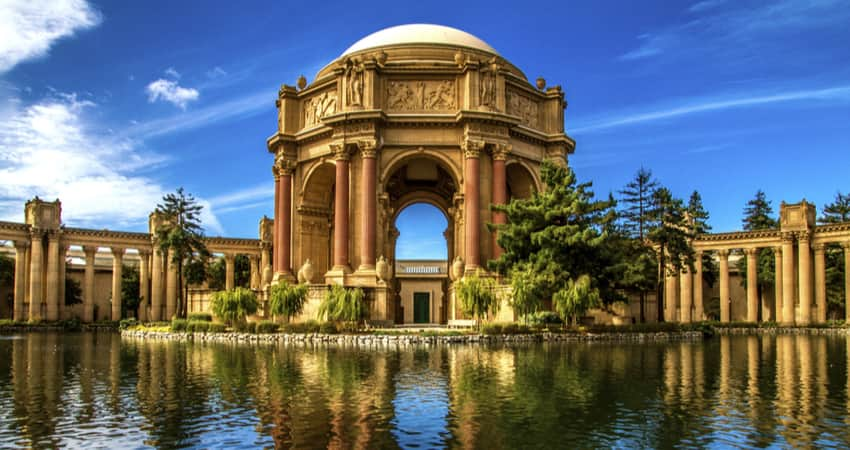 The Palace of Fine Arts
Address: 3601 Lyon St, San Francisco, CA 94123
Phone: (415) 376-1704
San Francisco has world-class art museums like the de Young Museum, San Francisco Museum of Modern Art, and Asian Art Museum. Though, if you aren't looking to spend time in a museum, one of the most popular art spaces in San Francisco is The Palace of Fine Arts. This Greco-Roman architectural marvel was built for the 1915 Panama-Pacific Exposition as an exhibition space for art.
The palace is made up of multiple gardens and beautiful buildings that are perfect for photo ops. Although the palace longer serves as an art gallery it does host special events like theater and dance performances. It's also a wonderful place to stop in the evening when the palace is illuminated by dramatic lights.
Charter bus rental parking: A bus loading zone is located on the east side of Palace Drive and short-term parking can be found on Montgomery Street nearby in The Presidio.
Chinatown
Dragon's Gate (entrance) address: Bush St, Grant Ave, San Francisco, CA 94108
San Francisco's Chinatown is historically the largest, oldest, and most established Chinese neighborhood in the United States. With streets and alleys lined with authentic restaurants and shops, San Francisco's  Chinatown is one of the biggest cultural hubs in the city. It's the perfect location to immerse yourself in the city's rich historic neighborhood, grab a tasty lunch, buy a few cheesy souvenirs, and snap photos at the famed Dragon's Gate.
Local tour companies offer guided tours of Chinatown, but it's just as fun to take a self-guided tour. A few highlights in the packed 24-block neighborhood include Golden Gate Fortune Cookie Factory, Sing Chong Building, Tien Hau Temple, Portsmouth Square, and street-art lined Jack Kerouac Alley.
Charter bus rental parking: A charter bus loading zone is located on the east side of Columbus Avenue. Oversized parking is limited in the area. Your driver will likely need to park at Fisherman's Wharf or AT&T Park.
Sports
Oracle Park
Address: 24 Willie Mays Plaza, San Francisco, CA 94107
Phone: (415) 972-2000
Oracle Park, home to the San Francisco Giants Major League Baseball team, is hailed as one of the best ballparks in the league. Many game attendees often note that Oracle Park doesn't have a bad seat! So if you travel during the Giants' season, your group of sports fans should grab tickets to an exciting game.
Traveling during the off-season? You can still take a guided tour of this modern waterfront ballpark. 90-minute daily public tours of the ballpark take guests through locations like the dugout, press box, and visitors clubhouse. Groups can also book private tours and schools can book educational tours customized to your students' age range.
Charter bus rental parking: Oversized parking for buses is available at Oracle Park. If you're traveling during a game, it's highly recommended that you reserve parking online in advance. The ballpark also offers overnight parking for groups visiting San Francisco overnight.
Get to Exploring San Francisco
There's so much to do in San Francisco, so these are just a handful of must-see spots for first-time visitors. If you want to build a more specialized itinerary with LGBTQ hotspots and landmarks, local shopping areas, and even some less-frequented attractions. San Francisco Charter Bus Company is here to help you travel from stop to stop anywhere in Golden Gate City. Rent your San Francisco charter bus by calling (415) 404-6456 at any time!
Do you need to rent a charter bus?