The Ultimate Group Guide to San Francisco's Presidio
Pop quiz: what has centuries-old military batteries, views of the Golden Gate Bridge, and greenspaces galore—all in one place?
That's right, we're talking about none other than San Francisco's own Presidio Park!
These 1,480 acres of greenspaces, native woodlands, and historic sites are SF's pride and joy, drawing in millions of locals and tourists to see the national park every year.
Want to see it for yourself? Here at San Francisco Charter Bus Company, we say the more the merrier. And if you need transportation to or around this gorgeous park, our 24/7 reservation team will gladly connect you to a comfortable minibus or charter bus rental that suits your needs. From fun days out with your sightseeing group to ADA-compliant shuttles at no additional cost, we won't rest until every travel group in San Francisco has a reliable ride at a predictable price point.
Call 415-404-6456 for more info about our San Francisco bus rentals, and keep reading to learn more about the one and only Presidio Park.
A Brief History of the Presidio
Before it was the bayside park we know and love today, the Presidio played an important role in the area's military history throughout the centuries. Its strategic position on the bay made it prime real estate for martial outposts for the U.S. military since 1846 and Spain and Mexico prior to that, with fort structures dating back to 1776. While under U.S. control, the Presidio was the launch point for many conflicts throughout the Pacific, including the Spanish-American War and World War II.
Since the space has transitioned from a military base to public property in recent decades, many of the old military facilities and barracks were converted into business and residential buildings. That being said, many of the old batteries still stand today and can be accessed through the Batteries to Bluffs Trail along the western side of the park.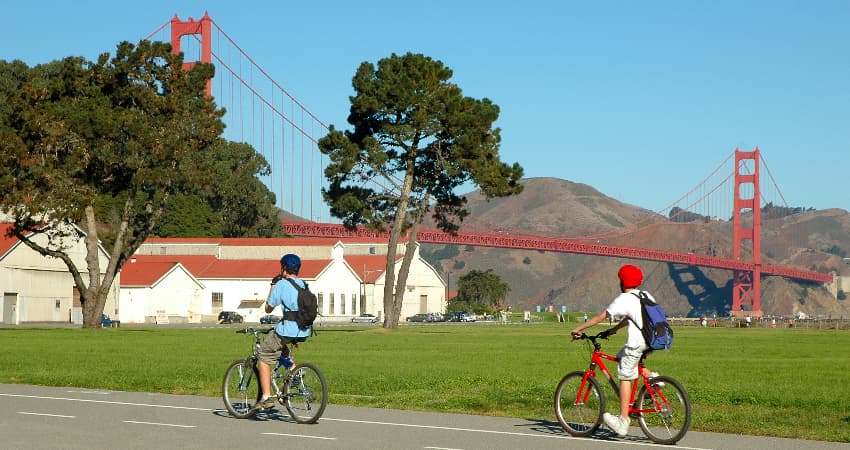 Getting Around the Presidio
As one of the most popular parks in greater San Francisco, the Presidio is relatively easy to traverse by many methods—even for out-of-towners.
If you're familiar with SF's public transit system and need a cheap ride to the area, your smaller group can take advantage of the Muni lines that run around the perimeter, toward the Golden Gate Bridge, and temporarily toward Crissy Field.
But if you need help getting around the park itself, city public transit options are slim. Depending on where you want to go, your group may be lucky enough to catch a PresidiGo Shuttle: the minibus service that weaves through the park and has a couple of direct stops downtown. The shuttles are free to ride and run on a route that hits the most popular spots in the park. In other words, if sticking to a set schedule or following the beaten path isn't you're thing, you'll want to find a more flexible solution.
Larger groups (especially ones with kids in tow) may find booking a personalized motorcoach rental the easiest way to get around the Presidio. Not only does a bespoke charter bus or minibus keep everyone together so no one gets lost, but San Francisco Charter Bus Company lets you take the wheel (not literally—your private bus driver will take care of that) when it comes to where you go and when you get there.
When you're planning your Presidio bus rental plan, it'll help to know where oversized vehicles can park, load, and unload in the park:
The Golden Gate Bridge Welcome Center offers six motorcoach-friendly parking spots, available on a first-come, first-serve basis.
Langdon Court, along Lincoln Boulevard, has the closest parking to the battery ruins and the San Francisco National Cemetery on the northwest side of the park.
Along Lincoln Boulevard, you can find a single bus parking spot at the Crissy Field Overlook, where your passengers can get out and take in views of the Bay and Alcatraz Island.
Along Montgomery Street, there are a few streetside parking spots outside the Walt Disney Family Museum.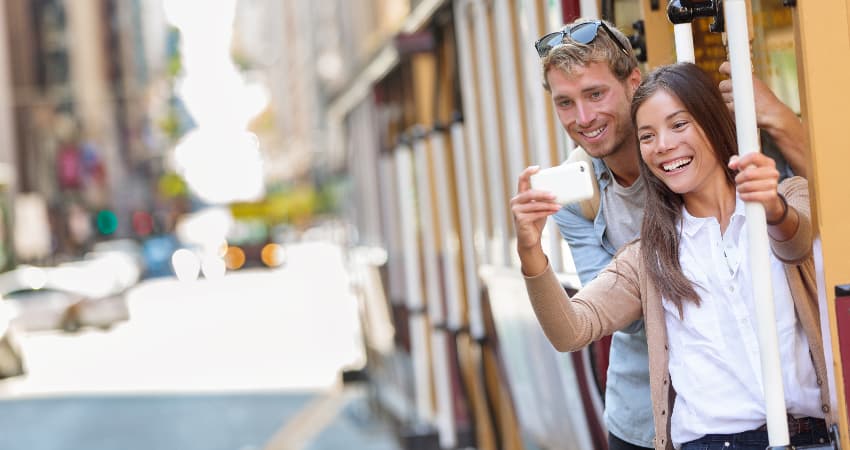 Some of the Presidio's Most Popular Destinations
Crissy Field
Address: 1199 E Beach, San Francisco, CA 94129
This former airfield at the north end of the park used to house seaplane hangars, a military intelligence language school, and some auxiliary buildings for the area's U.S. Army base. While some of the major structures have been converted into offices and apartments, most have been preserved as they were in the 1920s: a perfect place to tour with your history buffs and architecture nerds.
Aside from history and aesthetics, Crissy Field offers a great place for little environmentalists to explore the Bay Area's natural landscape and wildlife. Both the beach and marshland here have been restored to how they would have been before settlers arrived, with dozens of fish and bird species to see in their natural habitat. If you're looking for a little more structure for your nature outing, the Crissy Field Center is an environment-focused educational center and a popular stop for Presidio Park field trip groups.
Lucasfilm San Francisco
Address: 1 Letterman Dr, San Francisco, CA 94129
Welcome to the official special effects headquarters for the Star Wars movies and one of the top effects studios in the world! While these facilities are working office and production spaces and therefore don't offer official tours, guests are more than welcome to take photos and poke around the entrance area, which is full of memorabilia from the legendary films.
After you snap a group selfie with the life-sized Yoda fountain out front, make your way into the lobby area and admire the Stormtrooper statues, old Darth Vader costumes, and lightsaber replicas on display there. Just be respectful if you're visiting with a larger group, so you don't disrupt the movie magic.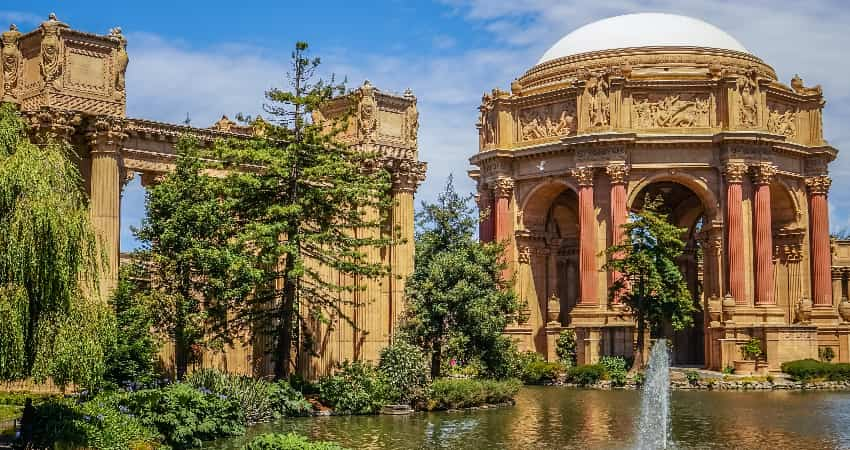 Palace of Fine Arts
Address: 3601 Lyon St, San Francisco, CA 94123
This place is a must-see for any group of art aficionados. You've probably already seen this on all of your favorite SF-based movies and TV shows—but in case you haven't, pop in a copy of The Bicentennial Man or Vertigo into your charter bus rental's DVD player so everyone can brush up on the way to this masterpiece of a destination.
This iconic performing arts venue dates back to the 1915 Panama-Pacific Exposition features romantic Greco-Roman architecture that's meant to resemble the ruins of an ancient temple. After a few group selfies by the tranquil pond, your art-lovers can catch a live theatre production, comedy show, or concert in the facility's indoor amphitheater. (Keep in mind that the Palace of Fine Arts doesn't have a physical box office, so purchase your group's tickets online before the show.)
The Wood Line
Address: Presidio Blvd, San Francisco, CA 94129
One of the more subtle attractions in the park, the Wood Line is still a great stop to add for nature lovers and young kids who need to burn off some energy. This 1,200-foot artwork is exactly as the name implies: it's a winding line of recycled eucalyptus trunks on the forest floor in the southern end of the park. And as artist Andy Goldsworthy intended, the piece doesn't stand out or take away with the surrounding forest—visitors are meant to walk on it, check out the bugs and critters that live there, and engage with nature.
Your experience with the Wood Line doesn't have to be existential, though. Bring your class or scout troop out for a mini field trip and see if you can stay balanced on the zigzagging stretch of logs for its entire length!
Plan Your Trip to San Francisco's Presidio Park
Whether you're planning to visit palatial performance venues, brush up on your history at the batteries, or relax on the beach, San Francisco Charter Bus Company can help your group's travel in the Presidio run as smoothly as possible. Our around-the-clock reservation team is always standing by to answer your transportation questions, help you find the perfect motorcoach for your group's size, and offer you a free and no-obligation quote tailored to your itinerary. Call 415-404-6456 today to see how easy it is to book a bus rental in San Francisco!
Do you need to rent a charter bus?