The Ultimate Group Guide to Visiting Alcatraz
Just 1.25 miles off the shore of San Francisco lies a dark (and frankly creepy) attraction: Alcatraz Island. As one of the most legendary prisons in the country with a past riddled with ghost stories and escape attempts, it's no wonder thousands of visitors flock here every year to see the old facilities for themselves.
Alcatraz Island is rich with history, making it a great itinerary item for field trips, day trips with scout troops or community groups, and sightseeing tours with the family. If you're planning a group trip to "The Rock," San Francisco Charter Bus Company put together this group guide so you know what to expect.
Keep reading to learn the ins and outs of group visits to Alcatraz Island, and call 415-404-6456 whenever you're ready to hash out your ground transportation to and from this historic SF attraction.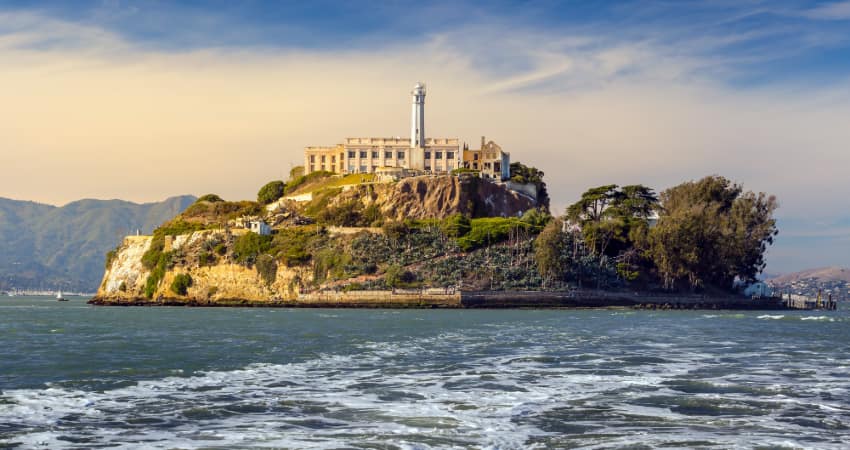 A Brief History of Alcatraz
Fun fact: Alcatraz Island has been used as a prison for longer than you might think. Before colonists even started exploring the area, local native tribes used the island as a camping and hunting spot, and at one point it became an isolated place to send law violators.
The history of the island as most folks know it, however, began with Mexican occupation throughout the early 1800s, until the state of California acquired it in the 1850s. The first U.S. lighthouse on the west coast was built here shortly after, as well as a military fort that imprisoned Confederate sympathizers throughout the Civil War.
The prison you'll see and tour today was constructed in 1934 and was designed to hold high-profile prisoners found guilty of murder and robbery, as well as prisoners who caused problems at other federal jails. Over the 30 years it was active, the federal penitentiary housed famous inmates like Al "Scarface" Capone, the "Birdman" Robert Stroud, and George "Machine Gun" Kelly—though the island became even more infamous due to the 14 daring escape plans and subsequent drowning of inmates as they fled ashore.
After the federal prison closed its doors in 1963, it became the site of a nearly two-year long occupation protest led by Indians of All Tribes (IAT) and its supporters. While the defunct federal facility was ultimately not given back to native people to be turned into an education and cultural center—as was promised in an 1868 treaty—the occupation movement pushed the U.S. government to cease assimilation programs that encouraged young indigenous people to abandon their culture and homelands. Today, visitors can still see graffiti made in this time and learn more about the Native American Civil Rights Movement as they walk around the island.
Tour Highlights
Under normal circumstances, visitors to the island are welcome to explore the main facility by picking up a digital headset on the lower level of the jail. The Alcatraz cellhouse audio tour is narrated by former inmates and guards, which means your group can learn about everyday life for the prisoners, big-name criminals who passed through these halls, and major escape attempts—all through the voices of those who experienced it firsthand. Sites of interest include the dark and cramped "Hole" cell (reserved for the worst-behaved prisoners) and the chipped-away concrete around a vent through which three prisoners escaped in 1962.
However, as of this writing (October 2020), the cellhouse is closed to visitors until further notice. Instead, guests are invited to explore the outdoor monuments, graffiti, gardens, and vistas across the bay. Upon arrival, be sure to ask a ranger how to set up a 30-minute audio tour on your phone specifically for these outdoor sections.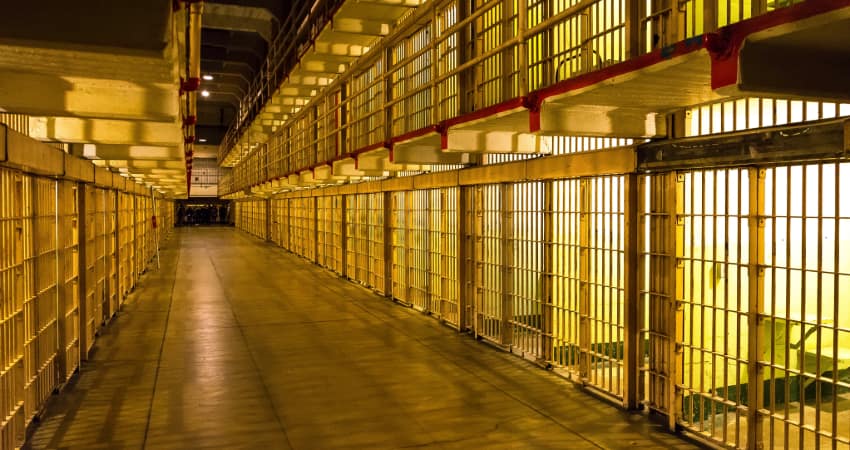 Buying Tickets to Alcatraz
Alcatraz Cruises LLC is the official—and only—vendor to supply ferry transportation between the mainland and The Rock. The island is not serviced by any other ferries and does not sell tickets through third-party vendors.
Through Alcatraz Cruises, visitors can choose from a variety of tour options, from the standard day pass for $39.99 per person to extended night tours, behind-the-scenes tours, and in-depth ventures to nearby Angel Island for additional fees. The ticket fees cover the audio tour you'll receive once you're there, the ferry ride to and from the island, and National Park recreation fees associated with all nationally designated areas.
You can buy tickets when you arrive at Pier 33, where the ferries depart, but it's highly recommended to book your tickets well before you get there. Tour slots become available for purchase 90 days out and often fill a week in advance. In addition, groups of 15 or more should request a reservation through the Alcatraz Group Services department by calling 415-438-8361 or emailing groups@alcatrazcruises.com and will be asked to pay for your group's tickets at least 30 days before your tour.
Getting to the Dock
As you could guess, there's only one way to get to Alcatraz Island: by the ferries that depart from Pier 33. But while individuals and large groups alike arrive on the island all the same way, getting to the dock itself is a different story.
If you're with a small group of visitors—your immediate family, a few friends, etc.—it's recommended that you either take public transit or drive yourself and park close by. There are 15 commercial lots and plenty of metered parking spaces within walking distance of Pier 33.
Groups of 10 or more, however, may not want to split into individual cars and pay multiple parking fees or try to navigate public transit and risk getting separated. This is where reserving a charter bus or minibus rental can come in handy. Rather than putting extra miles on your personal vehicle or stressing over whether your tweens can make the right bus transfer without getting lost, you can choose a private charter bus rental so everyone arrives in one vehicle, all at the same time. Rent a bus through San Francisco Charter Bus Company, and your group can rest easy while your professional driver handles everything for you. Your bus rental can drop you off directly at Pier 33 with plenty of time to catch the ferry, and your bus driver will handle all the parking details for you so no one runs late for their tour!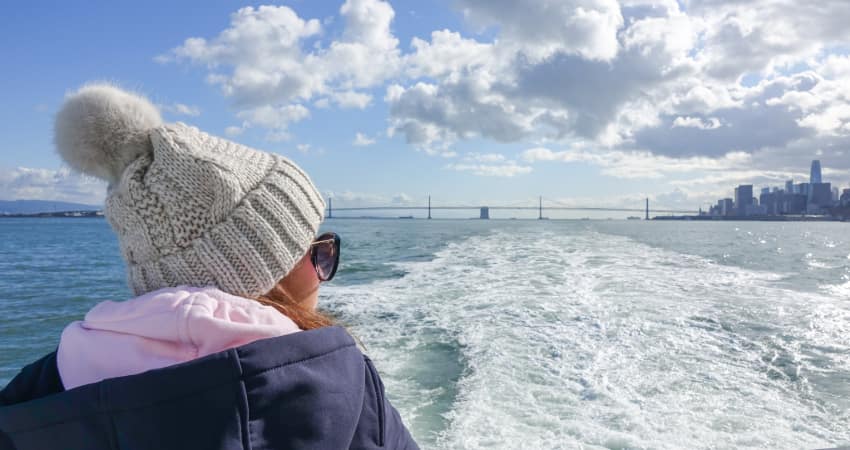 Accessibility
Both docks, the ferry, and most of the major facilities and exhibits on the island are accessible by wheelchair and mobility device. But there is one thing visitors with limited mobility should keep in mind: Alcatraz's hills are very steep.
If you or members of your group might have difficulty climbing the paved roads on the island, feel free to take advantage of the site's Sustainable Easy Access Transport, or S.E.A.T., tram. This accessible shuttle runs about twice an hour between the dock and the cellhouse and is available on a first-come-first-served basis. Family and friends who are physically able to walk there are asked to do so, but one personal attendant is allowed to board the tram to aid in embarking, disembarking, and transferring in and out of wheelchairs. And if you need a reliable and ADA-accessible ride to and from the pier (or anywhere else in SF for that matter) San Francisco Charter Bus Company can set you up with a bus rental that has wheelchair lifts, wider aisleways, and handrails at no additional cost!
Beyond offering physical accessibility, Alcatraz also offers cellhouse audio tours in a variety of languages: English, Spanish, French, German, Italian, Dutch, Japanese, Korean, Portuguese, and Mandarin. Transcripts of these tours, including an English Braille version, are also available upon request.
Things You Should Know Before You Go
Now that you know where to buy tickets, where to park your charter bus rental, and what to expect on Alcatraz Island, all that's left is to head out—right? Well, here are a few final tips your group should keep in mind before you embark:
Visitors can stay on the island as long as they like but should allow at least 3 hours for their visit to Alcatraz—including the time it takes to ride the ferry there and back.
No food or drinks other than water are allowed on the island.
No large parcels or luggage are permitted here—bags must be 16" x 20" or smaller.
Those traveling with kids—whether it's a school group, a club, a scout troop, or a youth group—need at least one 21+ chaperone for every 9 youths under the age of 18.
Just so you know, there are a lot of flies on the island, especially around the dock area. The buzzing can be annoying, yes, but they aren't likely to bite or sting you. The flies' presence is a sign that the native bird population is thriving—so they're actually a good thing!
Start Planning Your Alcatraz Tour Today
Whenever you're ready, the San Francisco Charter Bus Company team is always here to simplify your transportation to Alcatraz Island, around San Francisco, and throughout the Bay area. Whether you need a simple minibus shuttle around town or a full-size charter bus for a long-distance road trip, our team will work around the clock to ensure your passengers are safe and comfortable. Call 415-404-6456 to ask about the rental process; to request amenities like free WiFi, TVs with a DVD player, plush reclining seats and total climate control; and to receive a free, no-obligation quote for your personalized SF bus rental!
Do you need to rent a charter bus?