Sports Fan's Guide to San Francisco
The Golden State has some of the best sports in the country, with San Francisco being a hotspot for any major sports fan. Whether you're local sports fans traveling for a game or you have an out-of-town group looking to tour world-class stadiums, San Francisco Charter Bus Company should be your go-to service for easy transportation.
Even if you're a group participating in an upcoming San Francisco sports event, we've got you covered with a minibus or charter bus rental to comfortably transport everyone to the starting point. Forget tedious gameday parking, designating a driver, or having to organize a multi-car tailgate. Rent a charter bus for your local fan club, group of work colleagues, or for your big group of friends and family, and you'll have a comfy climate-controlled bus with amenities like reclining seats, WiFi, TVs, and power outlets to relax before and after a big game.
Call ​​415-404-6456 to chat with a San Francisco Charter Bus Company rental expert about your upcoming sports trip in The Bay Area.
San Francisco Professional Sports Venues
San Francisco has 6 professional league sports teams and sleek, modern venues. Groups interested in catching a big game will likely find themselves at one of these top San Francisco sports venues: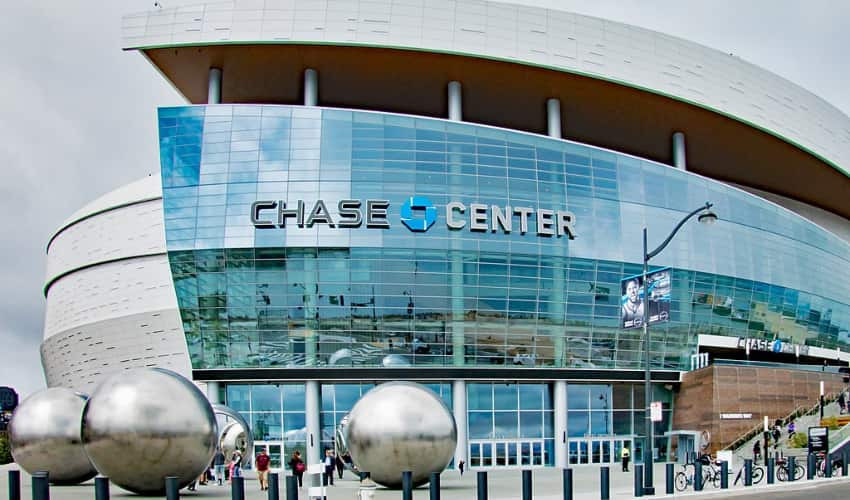 Chase Center
Home of the Golden State Warriors NBA team.
Address: 1 Warriors Way, San Francisco, CA 94158
Phone: (888) 479-4667
If you're a fan of basketball, then visiting Chase Center during game day or for an event is a must. It's the home turf of San Francisco's decorated team, the Golden State Warriors. The waterfront arena offers views of the San Francisco Bay and event attendees often say there isn't a bad seat in the house.
Groups traveling with 10 or more guests can qualify for ticket discounts to select Warriors games, concerts, and other events at the center. Due to the high volume of events every year, public tours of Chase Center are not available.
Charter bus rental parking: Most parking for Chase Center is available in garages, which cannot accommodate oversized vehicles. Parking for your charter bus rental can be found at
Lot A in Park's Edge up the road from Chase Center.
Levi's Stadium
Home of the San Francisco 49ers NFL team.
Address: 4900 Marie P DeBartolo Way, Santa Clara, CA 95054
Phone:  (415) 464-9377
Football lovers should hop over to Levi's Stadium to cheer on the 49ers during a game and visit the 49ers Museum. This state-of-the-art facility is relatively new, having just opened in 2014. Group ticket packages for gameday are available to groups of 20 or more. The 49ers Museum can be visited on game days and non-game days. The museum will only be accessible to game ticket holders on game days and separate admission tickets can be purchased for non-game days.
Tours at the stadium have been suspended at the time of this writing (September 2021)but may continue in the future.
Charter bus rental parking: Designated oversized parking spaces are available in Blue Lot 1 at the stadium. It's highly recommended to purchase parking in advance. Charter bus parking is usually $160 per vehicle.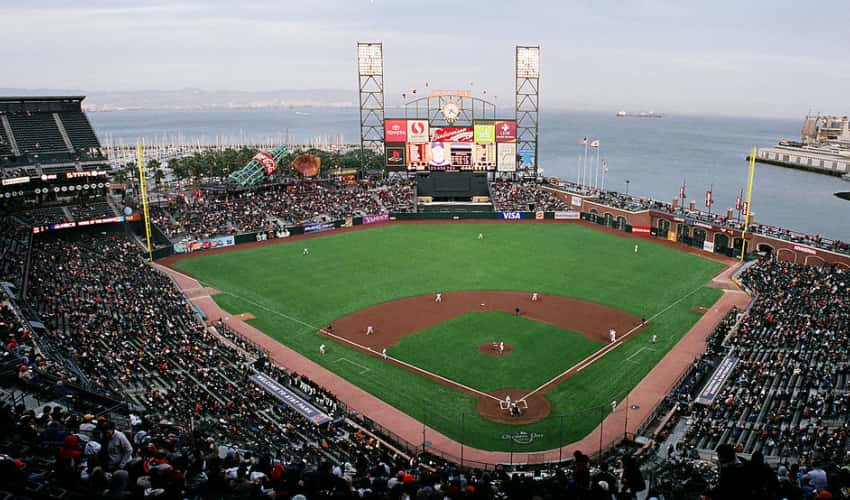 Oracle Park
Home of the San Francisco Giants MLB team.
Address: 24 Willie Mays Plaza, San Francisco, CA 94107
Phone:(415) 972-2000
Out of all the San Francisco professional teams, the Giants have the most titles under their belt. Their waterfront home turf, Oracle Park, is hailed as one of the best ballparks in Major League Baseball and is a must-visit spot for any sports lover. You'll have a beautiful view of the San Francisco Bay from many seats in the stadium. Group ticket blocks can be booked for a discounted rate for 15 or more game goers.
Ballpark tours are currently on hold, but are usually open to the public and to private groups. You'll also have the option to book additional experiences like behind-the-scenes tours where only players and coaches are usually allowed.
Charter bus rental parking tip: There's a dedicated bus parking area in Lot A on the west side of Terry Francois Boulevard. Parking is $80 for weeknight games and $100 for weekend games.
RingCentral Coliseum (Oakland Coliseum)
Home of the Oakland Athletics MLB team.
Address: 7000 Coliseum Way, Oakland, CA 94621
Phone: (510) 569-2121
The Oakland A's are located right across the bay from the San Francisco Giants. RingCentral Coliseum was also home to the Oakland Raiders before the team moved to Las Vegas in 2020. On top of being the A's home field, RingCentral Coliseum hosts a variety of big concerts throughout the year. Group tickets are available for select concerts and A's games, so your big group of sports enthusiasts can take advantage of a little discount.
Tours of the Oakland Coliseum are currently suspended. Once the tours restart, groups can book game day and non-game day options.
Charter bus rental parking tip: Bus parking is $85 for most events at the Oakland Coliseum.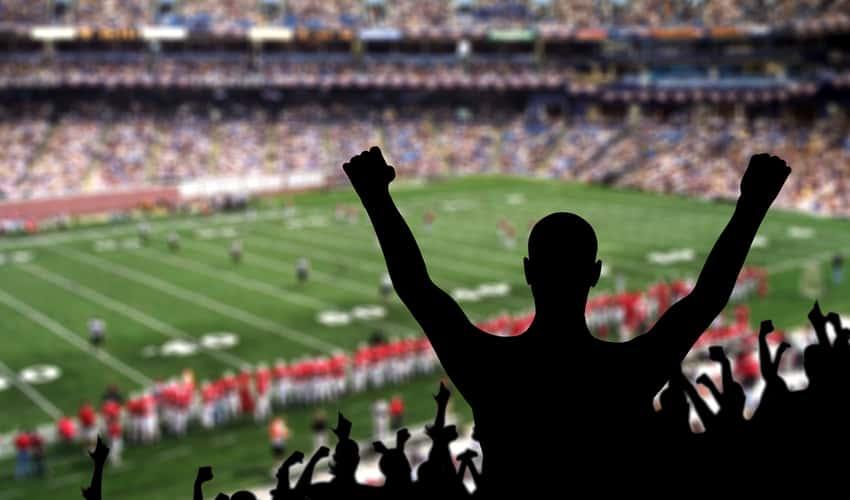 Collegiate Sports
The city of San Francisco doesn't have a particularly popular college sports team, but there are multiple universities in the region with big team followings. Rent a charter bus for your alumni group or academic club:
University of California, Berkeley
The University of California, Berkeley (Cal) has given college football some of its memorable plays over the program's 135-year span. Along with a decorated football team, Cal also has outstanding basketball, gymnastics, swimming, diving, track, and field programs (just to name a few). Rent a charter bus and get your California Golden Bears alumni group together for homecoming or rivalry games against Stanford and UCLA.
California Memorial Stadium Address: 2227 Piedmont Ave, Berkeley, CA 94720
Phone: (510) 642-2730
Charter bus rental parking tip: Bus parking on campus is extremely limited, especially during game days. Your bus driver will likely need to park off-campus at the Berkeley Marina Seawall Lot.
Stanford University
Hailed as one of the best college athletics programs in the country, the Stanford Cardinals have racked up hundreds of honors, titles, and awards across multiple sports. Cheer on the Stanford Cardinals football team during big games against Cal, USC, or Notre Dame.
Stanford Stadium Address: 625 Nelson Rd, Stanford, CA 94305
Phone: (800) 782-6367
Charter bus rental parking tip: Free game day bus parking can be found on Galvez Street west of Stanford Stadium.
Annual Sporting Events in San Francisco
Aside from games during major professional and college sports seasons, San Francisco also has other major sporting events like races. Here are a couple of events that San Francisco   Charter Bus Company can help your group travel to:
Bay to Breakers
May
After a major earthquake in 1906, Bay to Breakers was started as a way to lift the city's morale and spirits. Today, this annual 12-kilometer footrace is one of the biggest events of its kind on the west coast. The race's name originates from its route from The Embarcadero to Great Highway near Ocean Beach. Guests are encouraged to wear costumes and get groups together to participate in the race. Spectators will also find concerts and house parties along the race route. Just think of Bay to Breakers as a 12-kilometer moving costume party!
Charter bus rental travel tip: If you have a group coming from a distance to attend the race, traveling to the starting point near The Embarcadero may be easier with a private charter bus rental. Finding parking for multiple cars will be exceptionally difficult with closed roads. Consolidating everyone onto a minibus rental can make traveling into the city a little easier.
Escape from Alcatraz Triathlon
June
Escape from Alcatraz is considered one of the most difficult triathlons in the country. It originated
as a members-only event started by a local club but soon split into two events. Today, one of the triathlons is open to the public and brave athletes can register for the grueling course. The course includes a 1.5-mile swim, an 18-mile bike ride, and an 8-mile run from Alcatraz Island in the Bay to Marina Green.
Charter bus rental travel tip: Escape from Alcatraz works with a few companies to transport bikes for attendees. Groups of triathlon athletes coming from out of town may want to consider a spacious charter bus rental to comfortably travel into San Francisco with equipment.
Have a Fun Game Day with San Francisco Charter Bus Company
San Francisco Charter Bus Company can easily plan the group transportation for your stadium tailgate, homecoming game trip, or race. Kick your feet up and relax while your charter bus driver takes care of SF sporting event traffic. Call 415-404-6456 to reserve your San Francisco charter bus rental today!
Do you need to rent a charter bus?