The Ultimate Group Guide to Visiting the Golden Gate Bridge and Golden Gate Park
Did you know that San Francisco's Golden Gate Bridge is one of the most photographed locations in the United States? The Golden Gate Bridge is San Francisco's most iconic landmark and has been the subject of countless postcards and photos since it was finished in 1937.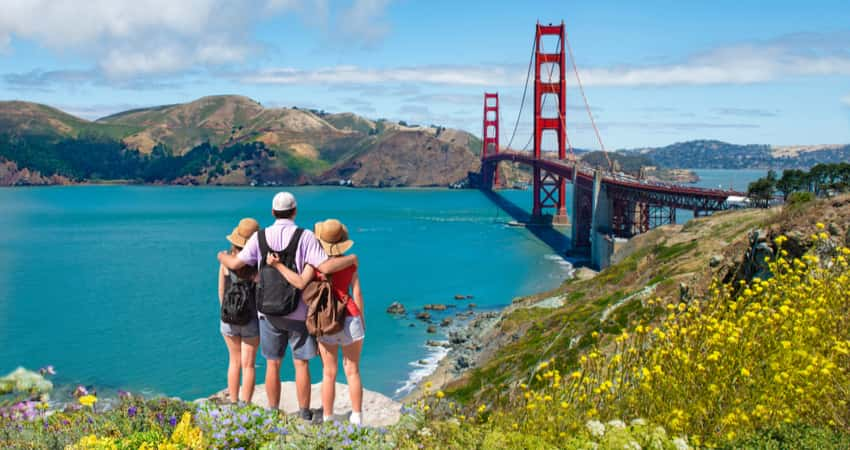 Needless to say, you absolutely have to explore the bridge, surrounding Presidio, and nearby Golden Gate Park if you're visiting the Bay Area. Not only are these popular destinations must-sees for groups of tourists, but they should be stops for local groups too (there's really nothing better than exploring the cool spots in your own backyard!). Plan a group sightseeing tour, local school field trip, or even a company team-building event in one of the area's green spaces. If you need a group ride around SF, leave that up to San Francisco Charter Bus Company. A private charter bus rental can keep your group trip running smoothly and according to schedule. Just call 415-404-6456 and a rental expert will help you organize your transportation details in no time.
Keep reading to learn some helpful planning tips for your group trip to some of San Francisco's biggest landmarks.
Quick Navigation
A Quick History of the Golden Gate Bridge
For much of its early history, San Francisco was only accessible by ferry. In the mid-19th century, it was the only major U.S. city that was primarily accessed by water. The ferry business boomed in the Bay Area, but San Francisco still found itself growing slower than other cities across the country. So, why not build a bridge? Many engineers thought it was impossible to build a cost-effective bridge across the massive 6,700-foot Golden Gate strait. Experts estimated that it would cost upwards of $100 million to construct a bridge, which wasn't in the city's budget at the time.
An accomplished engineer named Joseph Strauss claimed that he could build the bridge for just $17 million. Sounds a bit iffy, right? Well, the city agreed to Strauss developing the bridge with input from a team of additional experts. His team began construction on the crimson suspension bridge in 1933 and finished in 1937. In total, the bridge cost $35 million and was actually completed ahead of schedule. By 1999, the bridge was designated a California Historical Landmark and San Francisco Designated Landmark.
How to Visit the Golden Gate Bridge
Now that you know a little about the bridge, you may be asking: what's the best way to view the beautiful landmark in all its glory? Visitors who want to get up close and personal can either walk the bridge after parking at the Golden Gate Bridge Welcome Center or opt to drive across.
Groups traveling by charter bus or minibus will find 6 oversized parking spaces at the  Southeast Side Visitor Parking Lot. Parking here costs $0.25 for every 15 minutes. If you need an ADA-accessible charter bus rental, Los Angeles Charter Bus Company can get you in a comfortable vehicle with a wheelchair lift, additional handrails, and widened aisles by request. Parking spaces at the welcome center are ADA-accessible for guests traveling with mobility devices, and there are also 3 additional accessible parking spots for smaller vehicles.
Golden Gate Bridge Welcome Center
Address: Golden Gate Bridge, Coastal Trail, San Francisco, CA 94129
Phone: (415) 426-5220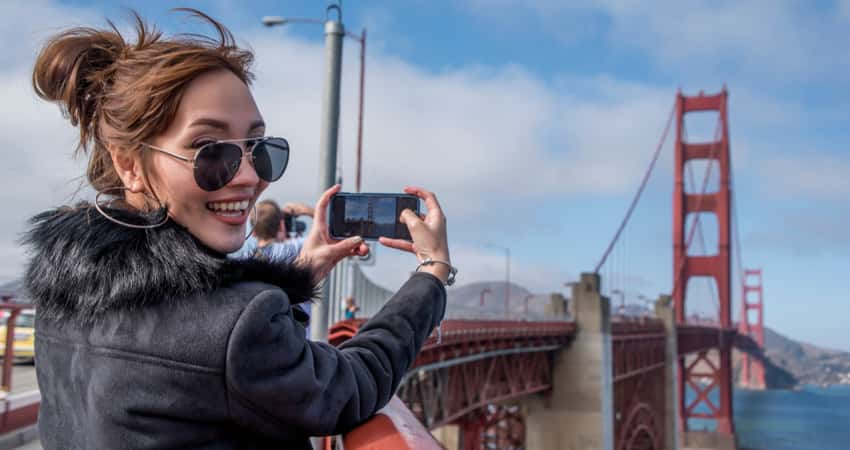 Walking the Bridge
If you choose to hop out and stroll along the bridge to get views of the Golden Gate, you'll want to keep these tips in mind:
Stay on the correct side: Pedestrians are only allowed on the east sidewalk that faces the bay.
Put on comfy clothes and shoes: The bridge is 1.7 miles long and takes about 35 minutes to walk each way. You'll want to make sure you have a comfortable and warm outfit on, as it can get cold walking over the bay.
Feed the meter: Walking across the bridge is free, but you'll need to make sure you give your bus driver plenty of cash to pay for parking.
Share the road: Pedestrians will have to share the east sidewalk with cyclists until 3:30 p.m. on weekdays. Bicycles are prohibited on the weekends and holidays.
Pick the right time to visit: Big sightseeing groups who don't want to be bothered by cyclists may want to visit after 3:30 p.m. or during the early evening hours on a weekend to catch the beautiful sunset.
Consider riding back: Instead of walking back along the bridge, have your charter bus driver pick your group up on the other end at the Vista Point parking lot. Bridge tolls will apply.
Driving the Bridge
Dealing with the crowds on the bridge's walkway isn't for everyone. Groups opting to drive across the bridge should still make a quick stop at the Golden Gate Visitor Center first to snap a few photos before hopping back in their car or charter bus. A bus rental will give your group amazing views of the bay out of panoramic windows, and everyone will stay comfortable in a climate-controlled cabin. Here are a few things to keep in mind when driving across the bridge:
Don't forget about tolls: Vehicles with two axles will have to pay $8.40 and trucks or buses with additional axles will pay a toll that starts at $25. Discounted carpool toll fare is available for vehicles registered with the city's FasTrak system.
No hop-on and hop-off tours: Once your wheels hit the bridge, you won't have anywhere to stop for photos. So if you're thinking about having a hop-on, hop-off tour—you may want to reconsider driving across.
Stop at locations across the Golden Gate strait: There's plenty to see once you make it across the bridge into the Marin County foothills. If you aren't planning to walk across, consider spending time enjoying the Golden Gate View Point near Kirby Cove, hiking in the Marin Headlands, or exploring the city of Sausalito.
The Best Places to Take Photos of the Golden Gate Bridge
If the Golden Gate Bridge is one of the most photographed locations in the country, where's the best spot to take pictures? Many guests start at the Golden Gate Welcome Center, which quickly gets crowded. If you want to avoid waiting for a never-ending line of other tourists to pass by in the background of your group photo, try these locations for your photo op instead: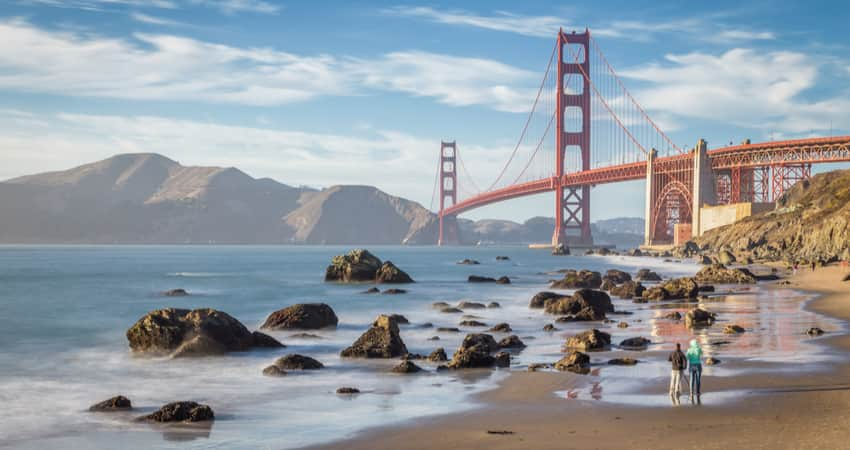 Marshall's Beach and Baker Beach at the Presidio
Address: 1504 Pershing Dr, San Francisco, CA 94129
Secluded beaches with rugged shorelines on the south side of the bridge that offer sweeping views of the Golden Gate and South Bay.
Crissy Field
Address: 1199 E Beach, San Francisco, CA 94129
Popular local greenspace in the Presidio that's perfect for having picnics, exercising, and taking photos of the Golden Gate Bridge.
Fort Point National Historic Site
Address: Long Ave & Marine Dr, San Francisco, CA 94129
This Civil War-era fort is located at the northernmost tip of the Presidio and gives guests a unique view of the Golden Gate Bridge.
Battery Spencer
Address: Conzelman Rd, Sausalito, CA 94965
Located on the north side of the bridge, Battery Spencer was built in 1893 and gives guests panoramic views of the bridge and bay. BatterySpencer can be a bit busy during the peak travel season.
Battery Kirby and Kirby Cove
Address: Fort Baker, Kirby Cove Road, Mill Valley, CA 94941
Kirby Cove is located just east of Battery Spencer and is usually a very quiet location to enjoy sweeping views of the Golden Gate Bridge.
After your group sees the Golden Gate Bridge and fills up your camera rolls with photos, there's still more for you to see in San Francisco. Check out these popular group destinations in the Presidio and Golden Gate Park:
Top Things To Do in the Presidio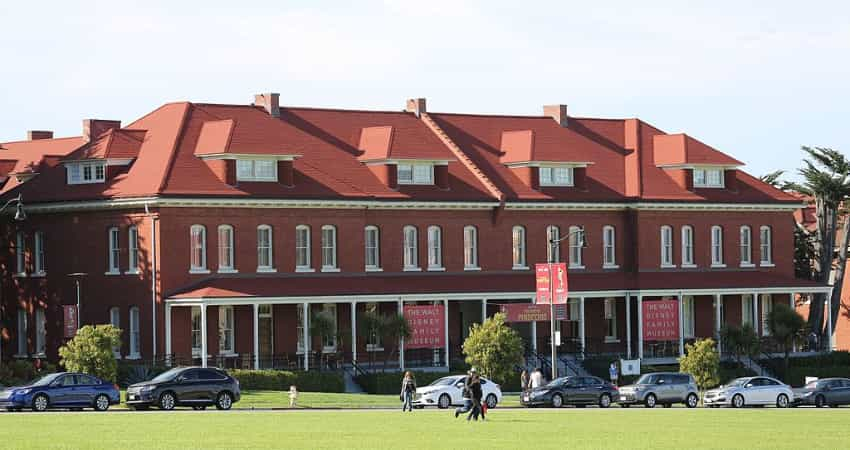 Walt Disney Family Museum
Address: 104 Montgomery St, San Francisco, CA 94129
Phone: (415) 345-6800
This museum focuses on the life, work, and legacy of famed American animator and entrepreneur Walt Disney. Galleries include sketches, figurines, and memorabilia from Disney's long career. The museum offers educational programs for local schools customized to age groups and workshops for artists interested in animation.
Where to park a charter bus: The Walt Disney Family Museum does not have its own parking lot and shares general parking in the Presidio. The closest short-term bus parking is available on the east end of the Crissy Field Overlook parking lot and along Montgomery Street.
Yoda Fountain
Address: 1 Letterman Dr, San Francisco, CA 94129
Phone:  (415) 554-6141
If you have big fans of the Star Wars franchise in your group, you may want to make a quick stop at the Lucasfilm headquarters in the Presidio. The iconic Yoda Fountain sits right outside the entrance to the lobby. Take a picture with Yoda and take a quick peek in the office's public lobby, where you'll find memorabilia from the film series.
Where to park a charter bus: The closest bus parking area is along Montgomery Street near the Walt Disney Family Museum.
Torpedo Wharf
Address: Long Ave, San Francisco, CA 94129
Phone:  (415) 561-4323
This historic wharf was established in 1854. Torpedo Wharf earned its interesting name from serving as a naval mine depot between 1907 and 1909 before being converted into a public space in 1941. The wharf is a great area to people-watch and enjoy the cool breeze rolling off the bay. You may even run into a few locals catching massive fish and crabs from the dock!
Where to park a charter bus: Short-term bus parking zones can be found at the Crissy FIeld Overlook parking lot or along Lincoln Boulevard just outside of the Battery East parking lot.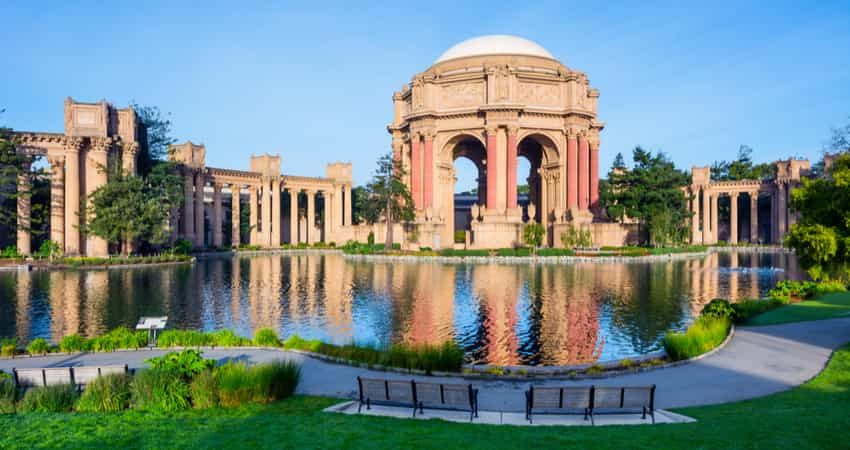 The Palace Of Fine Arts
Address: 3601 Lyon St, San Francisco, CA 94123
Phone: (415) 376-1704
The Palace of Fine Arts is actually located right outside of the Presidio, but since it's so close, you may as well pop across the street to check it out! This impressive Greco-Roman structure was built for the 1915 Panama-Pacific Exposition to display works of art. Today, the beautiful complex is used as a theatre and event venue. Self-guided tours of public spaces like the rotunda, lagoon, and colonnades are free, but you will need tickets to enter the museum and performance spaces.
Where to park a charter bus: Oversized vehicles can park in the lot between Palace Drive and Girard Road. If this lot is full, have your driver drop your group off and park on Montgomery Street near the Walt Disney Family Museum or in designated metered areas on North Point Street near Pier 45.
Top Things to Do in Golden Gate Park
California Academy of Sciences
Address: 55 Music Concourse Dr, San Francisco, CA 94118
Phone: (415) 379-8000
As one of the largest natural history museums in the country, the California Academy of Sciences is a must-visit attraction for groups of all ages. The museum has an aquarium, a planetarium, an indoor rainforest, and a variety of exhibitions that cover everything from dinosaurs to dazzling gems. Discounted entry is available for groups of 10 or more guests with prior inquiries.
Where to park a charter bus: There is a bus-only parking area located behind the Spreckels Music Pavilion on Concourse Drive.
Japanese Tea Garden
Address: 75 Hagiwara Tea Garden Dr, San Francisco, CA 94118
Phone: (415) 752-1171
Established as an exhibit for the 1894 California Midwinter International Exposition, this location is the oldest Japanese-style garden in the United States. Once the exposition ended, Japanese landscape architect Makoto Hagiwara spent decades maintaining and expanding the garden as a safe space for his family after World War II. Today, the gardens are open to the public. Guests can stroll the grounds and enjoy serene water features, perfectly manicured trees, and tasty treats at the traditional tea house. The garden offers discounts for San Francisco residents and free admission between 9 and 10 a.m on Monday, Wednesday, and Friday.
Where to park a charter bus: The garden does not have its own parking lot but is located just across the street from the Concourse Drive bus parking area.
de Young Museum
Address: 50 Hagiwara Tea Garden Dr, San Francisco, CA 94118
Phone: (415) 750-3600
The de Young Museum is San Francisco's premier fine arts center and one of the most-visited art museums in the country. Permanent collections include American Art from the Gold Rush era, earthenware sculptures from West Africa, couture textiles from European fashion houses, and ancestral Pueblo pottery. Local school or youth groups can sign up for educational programs tailored to their students' ages and interests. Guided visits can also be scheduled for groups of 10 or more visitors.
Charter bus tip: Be sure to let your bus driver know about San Francisco's Slow Streets program. This limits vehicle traffic on certain roads in the park and can make accessing some attractions difficult. When visiting the de Young Museum, you'll want to avoid entering on John F Kennedy Drive.
Conservatory of Flowers
Address:100 John F Kennedy Dr, San Francisco, CA 94118
Phone: (415) 831-2090
Although the Conservatory of Flowers isn't nearly as big as the San Francisco Botanical Garden, it offers an amazing collection of rare plants with smaller crowds. The botanical collection includes species of unusual carnivorous plants, beautiful orchids, lilies, and a wide variety of tropical plants. Group visits, including educational trips, must be booked at least three weeks in advance.
Charter bus travel tip: The conservatory is located between two Slow Streets, so it may not be easily accessible in your charter bus rental. Have your driver allow your group to unload at Kezar Drive before parking in the Concourse Drive bus lot.
Travel Around the Bay Area with San Francisco Charter Bus Company
From visiting the Golden Gate Bridge to exploring the many sites in the Presidio and Golden Gate Park, you won't easily run out of things to do in San Francisco. Whenever you have your group itinerary organized, give the San Francisco Charter Bus Company team a call at 415-404-6456 to reserve your minibus or charter bus rental.
Do you need to rent a charter bus?