A Guide to Visiting San Francisco's Union Square with a Group
Luxury retail, art galleries, and theatres all within walking distance of one another? Sign us up! All this and more can be found at San Francisco's Union Square, whose stores and beautiful outdoor setting make it a favorite among locals and visitors.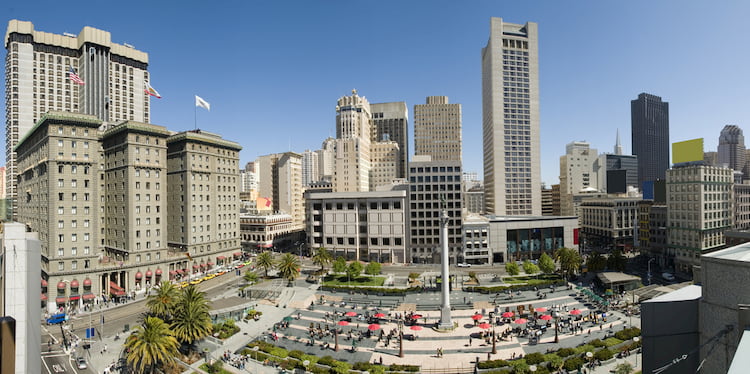 The name "Union Square" typically refers to the plaza bordered by Geary, Powell, Post, and Stockholm Streets; or it could refer to the shopping, hotel, and theatre district that sprawls around the plaza. The real draw of Union Square, though, is its impressive collection of department stores, upscale boutiques, shops, galleries, and salons—one of the largest in the United States! As the square sprawls outward, you can also find luxury hotels and off-Broadway theatres that keep the square lively.
Is your group planning to take a shopping break at Union Square in San Francisco? Or is the shopping trip the destination itself? Whatever your plans may be, San Francisco Charter Bus Company can help make sure your group gets to Union Square without missing a beat (and without having to navigate San Francisco traffic yourself!). It doesn't matter to us if you're planning a team-building day for your sports team, a field trip detour for your students, a personal vacation with friends, or a new route for your tour company—if you need a charter bus in San Francisco, we've got you covered. Call us today at 415-404-6456 to learn more!
Traveling and the COVID-19 Pandemic
As of the time of publication, many of Union Square's shops, restaurants, and theatres may be temporarily closed or operating at reduced capacity to help slow the spread of COVID-19. Please check hours and visiting guidelines before planning your trip.
Getting Around Union Square and San Francisco
Once you get to Union Square, walking is probably your best bet—navigating short distances through traffic, stoplights, and crowds of pedestrians can definitely be difficult for your bus driver, especially if you're visiting on a busy day.
But getting to Union Square is a different story. The closest BART station is the Powell Street station, which is about a 10-minute walk from the heart of Union Square. But if you're traveling with a large group or multiple children, it might be difficult to keep everyone together while you're on the train. Rideshares are an option too, but they can also split up your group.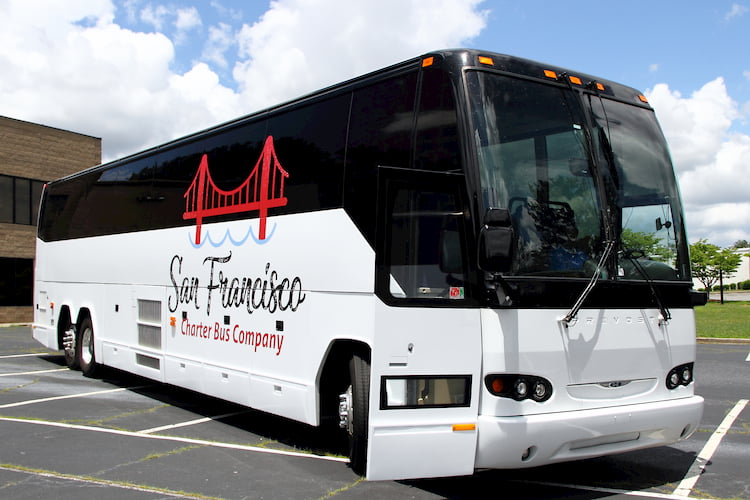 A charter bus can keep your group traveling as one unit, and you can customize your itinerary to fit your schedule. Plus, you'll get to enjoy air conditioning, WiFi, and even onboard restrooms while a professional driver takes the wheel! If you book through San Francisco Charter Bus Company, you can choose from compact minibuses, full-sized charter buses, and multiple sizes in between so that your charter bus rental can fit your group's unique needs.
Our team is available 24/7 at 415-404-6456 to help you choose the best charter bus option for your group's next trip to Union Square!
Where to Park and Load a Bus around Union Square
When your charter bus arrives at Union Square, you'll have two location options for loading and unloading your bus:
5-minute charter bus loading and unloading is available at the north side of Geary Street, east of Powell Street (near Macy's, ENO Wine Bar, Express, and Swarovski).
10-minute charter bus loading and unloading is available at the north side of Geary Street between Grant Avenue and Stockton Street (near Neiman Marcus and Chanel).
Because of the density of the area, your charter bus won't be able to park in Union Square. The nearest bus-friendly parking area can be found at Fisherman's Wharf.
The city of San Francisco also has a charter bus parking and loading map that you can reference if you think you'd like to load, unload, or park in a different area of town. Keep in mind that buses are not permitted to idle for more than 5 minutes in any area of the city.
Whatever you choose, be sure to have a plan before you arrive and communicate your plan with your bus driver. That way, your group won't be stuck circling the square looking for a spot.
Notable Shops in Union Square
Now that the logistics are out of the way, let's talk about where to go in Union Square. The shopping center is home to a wide range of shops, from Tiffany and Tory Burch to Hermès  and Michael Kors. You can refer to their main website for a full list of shops and restaurants, but here are a few highlights that you might not find at your local mall:
Macy's
We know—you've probably been to your local Macy's a hundred times already. But the multi-story San Francisco Union Square Macy's holds the distinction of being the brand's West flagship store, and it even has multiple restaurants inside like Pinkberry, Wolfgang Puck Pizza, Jamba Juice, and Ben & Jerry's. The store also has a Visitor Information Center for the rest of Union Square, so it's a great place to start if you aren't yet sure what else you'd like to see in the square.
Address: 170 O'Farrell St, San Francisco, CA 94102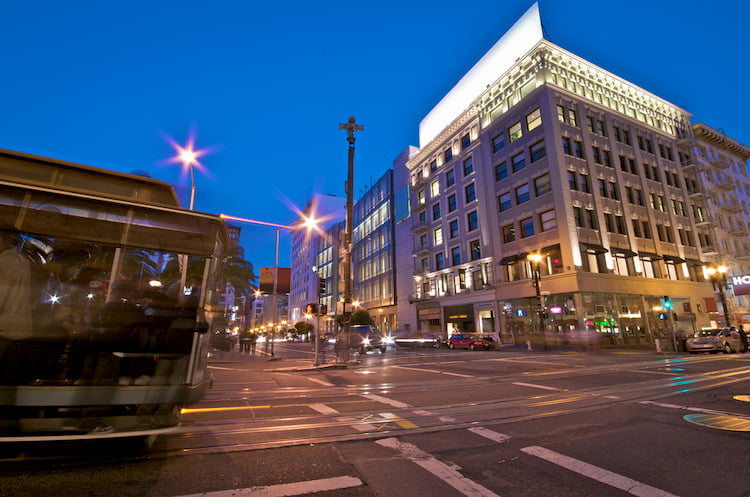 Tiffany & Co.
This luxury jeweler is recognized around the world for their signature Tiffany-blue boxes and top-of-the-line jewelry, china, stationery, and more. Though this isn't the 5th Avenue flagship store featured in Breakfast at Tiffany's, you can still get the "luxury shopping" experience when you browse this location—and no, we won't tell anyone if you go just to browse and peep the price tags.
Address: 350 Post St, San Francisco, CA 94108
Valentino
As one of only 12 Valentino boutiques in the United States, this is a stop you won't want to miss if you're browsing the square's luxury brands. Valentino's clothing has been popular among figures such as Jacqueline Kennedy and Julia Roberts, and the brand is known for its Valentino Roma and R.E.D. Valentino lines.
Address: 105 Grant Ave, San Francisco, CA 94108
Where to Eat in Union Square
All that walking and shopping is sure to make you work up an appetite. Luckily, there's no shortage of restaurants in Union Square! Remember—if you're bringing a group of more than 10 or 15 people, be sure to call ahead so that the restaurant won't be overwhelmed. Pull up a chair, rest your feet, and chow down on a variety of cuisines at any of the square's restaurants, such as:
Bartlett Hall
This gastropub is a popular stop among locals and visitors alike. It's the perfect mix of casual and upscale, and if you're in on a game day for your favorite sport, you can expect an extra party to take place around any of the venue's televisions.
Address: 242 O'Farrell St, San Francisco, CA 94102
Gaspar Brasserie
If you're looking for a drink or an after-dinner treat, this cocktail bar won't disappoint. Pop in for an authentic French dessert and a craft cocktail that'll leave you feeling fancy. We recommend the Le Fraisier.
Address: 185 Sutter St, San Francisco, CA 94104
Le Colonial
Vietnamese dishes meet French flair at Le Colonial, in the form of small bites and large family-style meals. Pair your meal with a craft cocktail and request a table on the veranda for a relaxing meal away from the bustle of the square.
Address: 20 Cosmo Pl #6413, San Francisco, CA 94109
Art Galleries near Union Square
When window-shopping starts to feel overwhelming, groups can head to Union Square's nearby art galleries to browse with no pressure to make a purchase. And with all of the bustle surrounding the square, the quiet of the art gallery halls can provide a calm escape from the noise.
Here are a few of the district's most popular galleries:
San Francisco Art Exchange LLC
Known for: Bringing pinup artist Alberto Vargas to fame; rock and roll art and photography.
Address: 458 Geary St, San Francisco, CA 94102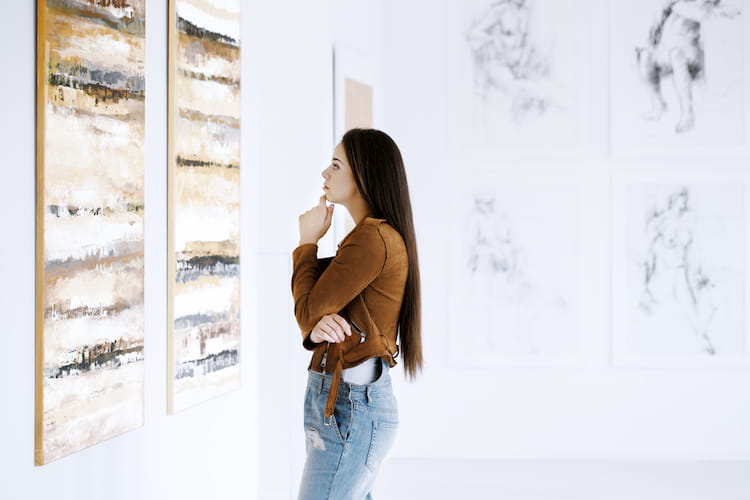 Martin Lawrence Galleries
Known for: Displaying paintings from prominent names such as Pablo Picasso and Andy Warhol.
Address: 366 Geary St, San Francisco, CA 94102
Gefen Fine Art
Known for: Exhibiting contemporary art pieces from both world-renowned and emerging artists.
Address: 239 Grant Ave, San Francisco, CA 94108
The Theatre District
Had enough shopping? Why not head to a show? The Theatre District encompasses part of the Union Square district and provides plenty of opportunities to sit back and enjoy a show you'll never forget.
Curran Theatre
Known for: The main lobby ceiling, which is hand-painted to look like wood.
Address: 445 Geary St, San Francisco, CA 94102
Orpheum Theatre
Known for: Its designation as a San Francisco landmark, determined by the San Francisco Landmarks Preservation Advisory Board.
Address: 1192 Market St, San Francisco, CA 94102
Golden Gate Theatre
Known for: Its history as a vaudeville house, a movie theatre, and finally, a performing arts venue.
Address: 1 Taylor St, San Francisco, CA 94102
San Francisco Playhouse
Known for: The Rising Star Program, which provides theatre tickets to under-served communities in San Francisco.
Address: 450 Post St, San Francisco, CA 94102
American Conservatory Theatre (The Strand and Geary Theatres)
Known for: The Geary and Strand Theatres, and its attached acting school.
Address: 415 Geary St, San Francisco, CA 94102
Book Your Trip to Union Square
Ready to embark on your next shopping or theatre adventure? San Francisco Charter Bus Company is here to help! Call us today at 415-404-6456 to learn about bus pricing, share your itinerary, and secure the perfect bus for your group's trip to Union Square.
Do you need to rent a charter bus?