A Group Guide to Art and Culture in San Francisco
San Francisco is considered one of the most influential West Coast cities when it comes to art and culture. So much so, sightseeing groups could spend weeks exploring the museums, galleries, music venues, and theatres and still not experience everything.
Whether you're enriching your art class with a field trip to a museum or simply scoping out artsy venues for your next private event, San Francisco Charter Bus Company has you covered. We can provide efficient and comfortable charter buses and minibuses to any artistic destination in the city and throughout the Bay Area. Call 415-404-6456 to learn more about our bus rental services, and keep reading to learn more about all things art and culture in San Francisco!
A Note on COVID-19 Safety
Due to the COVID-19 pandemic, many institutions, venues, and storefronts are closed or are only offering virtual experiences. Likewise, the restaurants in this guide may not be accepting reservations and may only be open for take-out or delivery. Before building your itinerary, be sure to check your destinations' websites or call ahead to see what's open. San Francisco Charter Bus Company can provide a sanitized shuttle service throughout the city, but your group will still need to follow the safety protocols of any establishment you visit in-person.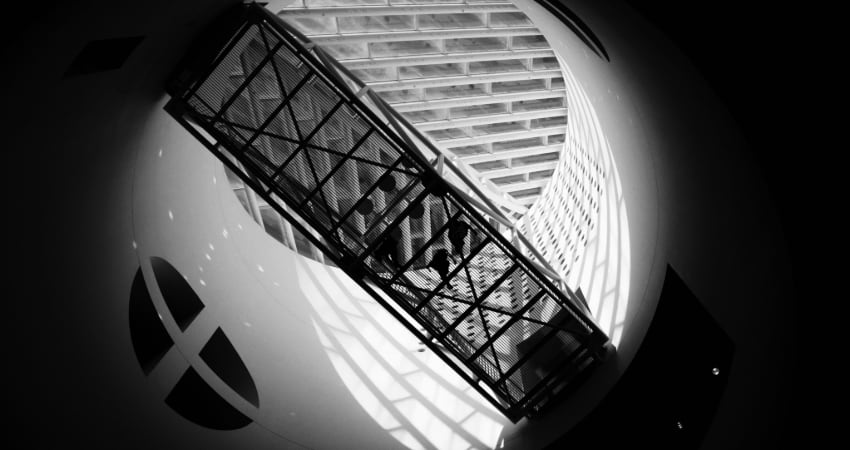 Museums
There are dozens of museums within San Francisco city limits that feature art from across time and the world. Here are a few of the most popular museums we recommend:
San Francisco Museum of Modern Art
Address: 151 3rd St, San Francisco, CA 94103
If your group of art lovers only has time to see a handful of museums in San Francisco, the SFMOMA should be on your list. It's considered the city's premier museum, houses an internationally recognized collection of modern and contemporary art, and was the first West Coast museum constructed to honor 20th-century art.
Large groups receive discounted admission to the permanent collections—though how you book depends on how many people are tagging along. Groups of 10 to 20 people can reserve tickets online as you would with a smaller crowd. But groups with more than 20 people should request a private tour two weeks in advance to ensure tour guide availability.
Charter Bus Parking: Unfortunately, the SFMOMA does not offer bespoke bus parking. After dropping everyone off in the designated white zones on Third Street and Mission Street, your driver can park at the Oracle Park bus lot for as long you need.
Asian Art Museum
Address: 200 Larkin St, San Francisco, CA 94102
Explore 6,000 years of history and more than 18,000 pieces through this Civic Center local favorite! This museum is considered one of the most comprehensive Asian art collections in the world and features a variety of guided tour options in English, Spanish, Chinese, Korean, and French.
If you decide to tour with a group, your art lovers will gain express entry to the exhibits and a discounted ticket price at the door. Request private, docent-led tours by calling 415.581.3620 or emailing groupvisits@asianart.org.
Charter Bus Parking: Buses can pick up and drop off visitors in Civic Center Plaza, on the north side of the museum building on Fulton Street. The Asian Art Museum doesn't have its own parking facility, but your bus driver can either park in the Oracle Park bus lot or in the designated bus lot in Golden Gate Park—depending on your plans before or after your museum visit.
de Young Museum
Address: 50 Hagiwara Tea Garden Dr, San Francisco, CA 94118
Here, your group can travel throughout Africa, Oceania, New Guinea, and North America—all through the permanent collection's paintings, sculptures, and artifacts. If the weather's nice, be sure to take a stroll around the outdoor Barbro Osher Sculpture Garden. There's also the Hamon Tower Observation Floor, which features some of the best panoramic views of the city. Fog permitting, you can even see out across the Golden Gate Bridge!
Touring the sculpture gardens, enjoying the courtyard green space, and climbing the observation tower are all free to the public, but if you want to see the art, going with a group has its perks. Groups of 10 or more receive priority booking services, discounted admission, and special private tour opportunities. Just contact the group sales office at groupsales@famsf.org or 415-750-3620.
Charter Bus Parking: As with all Golden Gate Park destinations, your charter bus rental can park in the designated lot behind the Bandshell at the Music Concourse's west end while you tour the museum.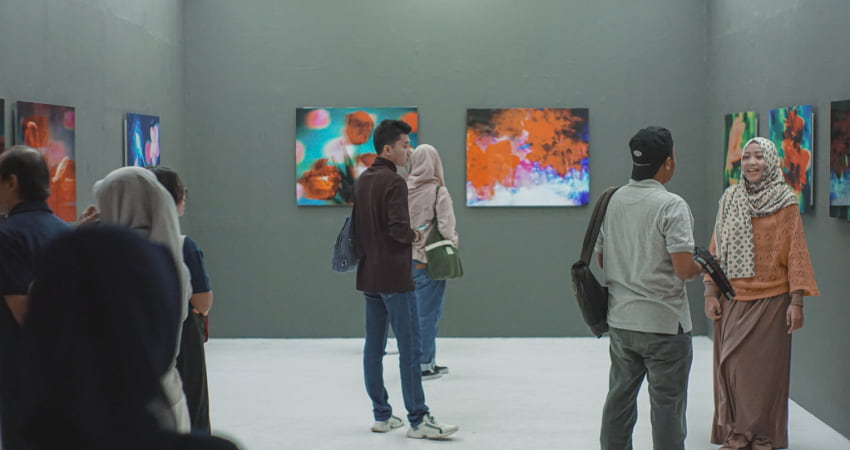 Art Galleries
The SF art scene is huge, which means exploring it can be intimidating if you don't know where to start. One way to experience a lot of it, relatively stress-free? Hit up one of the city's many Art Walks! That way, no one has to worry about what galleries will be open when—just round up your art enthusiasts on the first week of any given month, and let a private shuttle service take you to popular art events like:
First Thursdays with the San Francisco Art Dealers Association
If you're going to see any galleries in San Francisco, odds are that they're connected to the San Francisco Art Dealers Association. In which case, one of the easiest ways to support them is during this monthly, city-wide event.
Since the SFADA Art Walk covers a lot of ground, it can be difficult to see everything in one night. That's why we recommend booking a shuttle service for your art lovers! Hop on and hop off a compact minibus that follows a route you set for it, and your professional driver can take you to galleries in Union Square, the South Bay Area, or even Oakland! Keep in mind that not every SFADA gallery participates in the Art Walk—so call ahead to ensure your must-sees are open.
Here are some of the more popular galleries that open their doors for the Art Walk:
Imperial Fine Art
Address: 49 Geary St #440, San Francisco, CA 94108
Features: paintings and sculptures from renowned international artists
Hang Art
Address: 567 Sutter St., Floor 2 San Francisco, CA 94102
Features: new pieces from Bay Area locals
Hashimoto Contemporary
Address: 804 Sutter St, San Francisco, CA 94109
Features: contemporary art and innovative pieces from local masters
First Thursdays Castro Art Walk
Considering the neighborhood's significance in the city's LGBTQ+ history, the Castro is always worth a visit if you're new to San Francisco. But if you're traveling with a group of art enthusiasts and want to make the most of the neighborhood's art scene, be sure to stop by on the first Thursday of the month!
After you catch a musical act in Jane Warner Plaza or a bite to eat along Market Street, check out locally-focused galleries like:
The Arc San Francisco
Address: 1500 Howard St, San Francisco, CA 94103
Features: art from this lifelong-learning center's network, which works with people who have developmental disabilities.
The Artist's Gallery
Address: 4404 18th St, San Francisco, CA 94114
Features: locally made, affordable art.
The GLBT History Museum
Address: 4127 18th St, San Francisco, CA 94114
Features: pieces by queer Castro residents.
First Saturdays at Minnesota Street Project
Located in Dogpatch, the Minnesota Street Project not only offers local artists affordable galleries and workspaces but also lets visitors see 13 art galleries without even venturing outdoors.
Usually, the galleries here operate on their own hours—so touring all of them in one trip can be tricky. But on the first Saturday of every month, two of the three warehouses open their doors so visitors can walk through them freely.
The 1150 25th St. warehouse currently houses three spaces:
Altman Siegel gallery—displays work by artists throughout the Bay Area and from international locations, and sometimes has historical exhibitions.
Adrian Rosenfeld Gallery—a 2,000-square-foot space filled with modern and contemporary art.
McEvoy Foundation for the Arts—a local non-profit hosts three unique exhibitions annually in this space.
The warehouse 1275 Minnesota St. houses more galleries and programs, including:
The San Francisco Arts Education Project—since 1968 this program has focused on empowering young artists and new performers.
Jack Fisher Gallery—features collections of "outsider" and "outside-the-box" artists along with local favorites in the SF art scene.
Anglim Gilbert Gallery—closely tied to the Bay Area collectors' scene and aims to share locally made art throughout the world.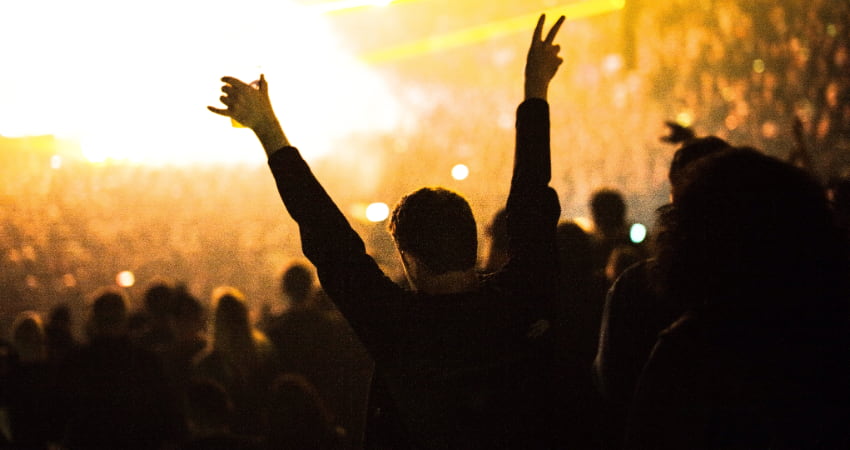 Music
Given the city's history and knack for larger-than-life architecture, it's no wonder why San Francisco's classical music halls are some of the most acclaimed in the country. Of course, if you're here to see less-than-classical lineups, SF's music scene will not disappoint you either.
Here are some popular venues where your group might hear their next concerto, choral performance, or indie acoustic set:
National LGBTQ Center of the Arts
Address: 170 Valencia St, San Francisco, CA 94103
Most notably, this building acts as the home base for the San Francisco Gay Men's Chorus: the first and largest LGBT chorus. For over 40 years this 300-person choral line has offered a variety of shows and concerts annually—from festival holiday arrangements to a small-ensemble cabaret during Pride month.
Unfortunately, this 30's-era building has not been recently renovated and therefore does not meet certain ADA standards (call 415-792-2647 to inquire about the facility's specific limitations). It does, however, offer bookable conference rooms and performance spaces for private events of all kinds—from fundraisers to fancy dinners.
Louise M. Davies Symphony Hall
Address: 201 Van Ness Ave, San Francisco, CA 94102
This 2,700-seat concert hall is where the SF Symphony hosts a majority of its performances.
A mainstay in the city's culture since the Panama-Pacific International Exposition, the city's symphony specializes in classical music but has been featured alongside more mainstream performers—including Metallica!
The hall is also home to the second-largest concert hall organ in North America, a Fratelli Ruffatti 5–147, as well as a few shops and cafes stemming from the entry lobby. Tickets to performances—not just the symphony's but those of other classical performers who showcase here—can be ordered in advance through the SF Symphony website.
The Fillmore
Address: 1805 Geary Blvd, San Francisco, CA 94115
As many old buildings in San Francisco do, the Fillmore has a storied history. Housing weekly social dinners and masquerade balls in the 1920s, showcasing hippie talent and new musical ideas in the 60s, becoming a punk club in the 70s, hosting sold-out shows for the likes of Willie Nelson, Radiohead, No Doubt, Prince, and Dave Chappelle—this building has stayed the heart of the city's culture scene for nearly a century.
Tickets to concerts at this all-ages venue can be bought online through third-party sellers or at the box office upon arrival. The Fillmore does not have a designated parking lot, and parking a bus in the Western Addition area can be tedious. We recommend renting a shuttle bus service for your concert goers, so a pro driver can drop everyone off near the venue and no one has to worry about parking!
Great American Music Hall
Address: 859 O'Farrell St, San Francisco, CA 94109
This 407-person theatre once entertained the masses with burlesque shows, jazz nights, and folk music performances. Nowadays, it's known as the backdrop for many popular live recordings (from the Grateful Dead to Robin Williams) and a stage for acts like Jonathan Coulton, Richard Thompson, and more.
This ornate venue is open to all ages (6 and up) and features a wheelchair-accessible ballroom design. Tickets to shows here are only available through third-party sellers or through the box office, which is open every day from 6 p.m. to close.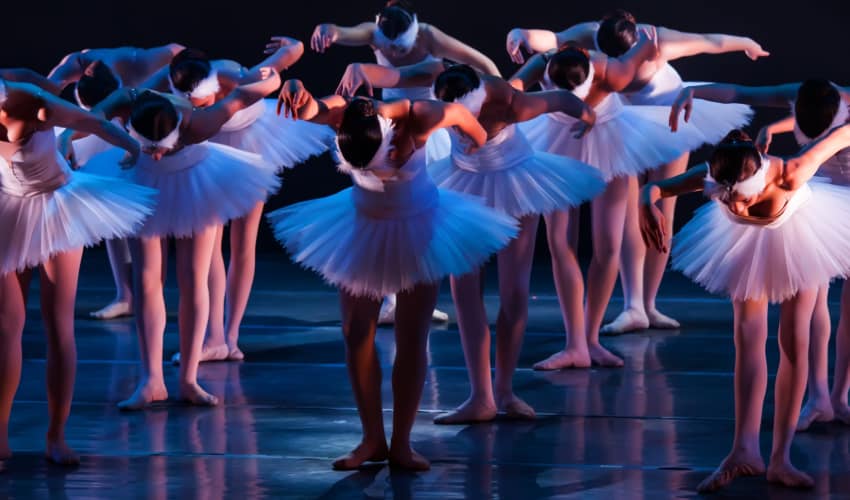 Performing Arts
Few things say "arts and culture" quite like a night at the theater. Whether your group is planning to see a traditional Shakespearean production or a local comedian, knowing a little about your venue can make your night out easier and more fun!
Here are just a few of San Francisco's most popular performing arts venues you might visit:
War Memorial Opera House
Address: 301 Van Ness Ave, San Francisco, CA 94102
Take in the beauty that's both on the stage and throughout the building. This renowned 1932 Beaux-Arts/Classical Revival performing arts center was one of the most sophisticated sound stages in the world at its completion and still boasts almost all of its original architecture. Today, it is home to both the SF Opera and the SF Ballet—both of which have delighted the San Francisco art scene since the 1920s.
If your group has time to spare before the performance, it's definitely worth taking a guided tour of the music hall. During this 60-minute behind-the-curtain tour, guests can take a peek into the prompter's box, dressing rooms, wardrobe, wig and makeup departments, and more, all while learning about the building's rich history.
The American Conservatory Theatre
Geary Address: 405 Geary St, San Francisco, CA 94102
Strand Address: 1127 Market St, San Francisco, CA 94103
This non-profit theatre company is actually two theatres in one. The historic Geary Theater offers more traditional programming and shows, while the newly constructed Strand Theater showcases more experimental work from fresh talent in the building's attached acting school. Whichever theater your group decides to see, let San Francisco Charter Bus Company ensure your patrons arrive comfortably with reclining seats, free WiFi, and fully climate-controlled cabins!
The Palace of Fine Arts
Address: 3601 Lyon St, San Francisco, CA 94123
Possibly one of the most iconic performing arts venues in the city, this Greco-Roman venue was originally constructed as a gallery space for the 1915 Panama-Pacific Exposition. Its 1,100-ft Greek pergola structure is meant to resemble the ruins of an ancient temple and is great for photo ops by a tranquil pond.
Besides being the perfect backdrop for group selfies, this venue also houses an innovative indoor theatre space frequented by acting troupes, comedians, and musicians alike. The palace theater does not have a physical box office, so your group will need to purchase tickets online through the theater's website.
Speaking of groups, oversized vehicles like charter buses and minibuses are advised to park in one of three places:
in the lot between Palace Drive and Girard Road
near the Walt Disney Family Museum
in the designated metered areas near Pier 45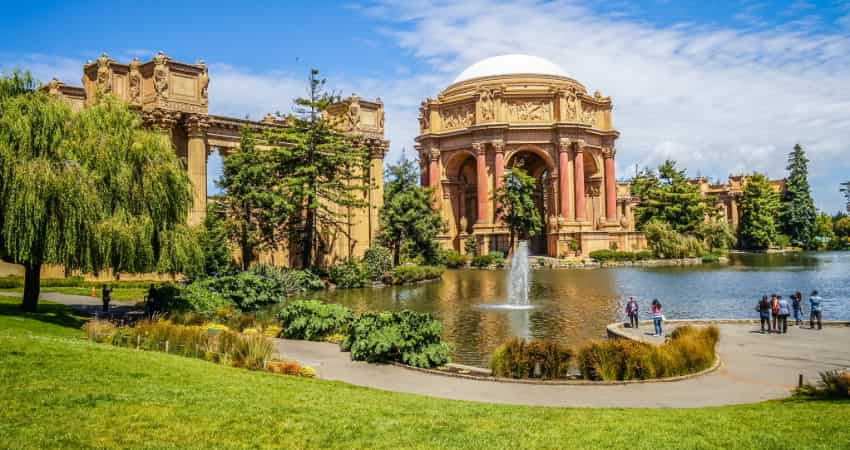 Reserve Your Ride to SF Arts and Culture Destinations
Now that you have a better idea of where to start, San Francisco Charter Bus Company can help your group get there. Our 24/7 team would love to answer any transportation-related questions you may have and help you find the perfect bus rental for your SF group trip. Give us a call at 415-404-6456 any time to receive a free, no-obligation quote!
Do you need to rent a charter bus?