Guide to Visiting San Francisco's Mission Neighborhood
San Francisco has so many cool neighborhoods. From the historic highlights of The Presidio to the thriving LGBTGQ+  scene in The Castro, there's something in San Francisco for every type of travel group. If you love art, taquerias, and vintage shops, The Mission is where you want to be.
During your group tour of San Francisco, pencil in some time to explore The Mission's many restaurants, shops, and art spaces. San Francisco Charter Bus Company can help you see all The Mission has to offer! Travel on your own time in a private bus rental to each stop on your Mission itinerary. Once you're done in The Mission, have your driver shuttle you anywhere else in the Golden Gate City. Create your itinerary and call the San Francisco Charter Bus Company rental team at 415-404-6456​ to rent a charter bus or minibus perfect for your group.
Keep on reading to learn more about what spots in The Mission you should add to your group itinerary!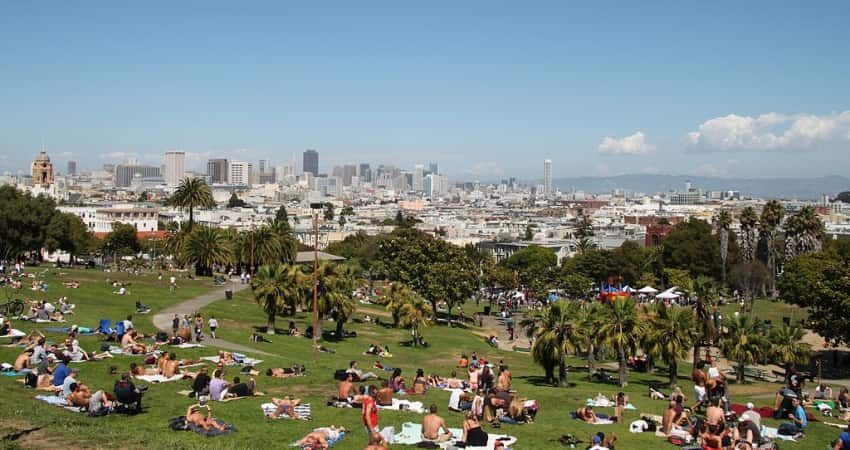 Parking a Charter Bus Rental in The Mission
Parking in The Mission is limited to street spots, and oversized vehicles are restricted on some roads. Oversized vehicles like charter bus rentals can unload passengers at a designated loading zone at Mission Dolores on the west side of Dolores Street. Your charter bus driver won't be allowed to park in the district, but they can park off-site after dropping your group off. Paid oversized parking can be found at AT&T Park and Christmas Tree Point in Twin Peaks.
About The Mission
The Mission is a major hub for Latino arts, history, and culture in San Francisco. This historic neighborhood was established by Spanish missionaries in the late 18th century when the area was still a part of Mexico. Today, The Mission has been heavily gentrified and is largely a hipster neighborhood, but it still has strong influences from the longstanding Mexican community. You'll find a variety of local businesses along Valencia and Mission Streets, as well as historic attractions sprinkled throughout the district.
History, Arts, and Culture in The Mission
The arts and culture scene in The Mission is one of the most vibrant in San Francisco. From historically and architecturally significant buildings to modern street art lining the walls, The Mission has plenty for art enthusiasts to see.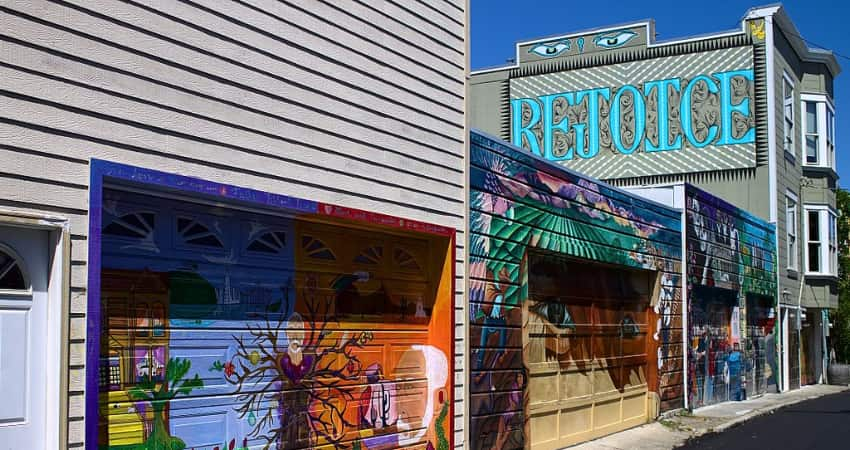 Balmy Alley
You'll find street art murals lining the sidewalks on any given stretch of The Mission. Balmy Alley has one of the highest concentrations of street art murals in San Francisco. This one-block area was established in 1973 and became a major center for Chicano and Mexican-American artists to bring the community together through art. Some of the earliest murals were created by the women-led collective Las Mujeres Muralistas to express opposition to human rights injustices in Central America. Several other community activism art projects were inspired by Balmy Alley, including Clarion Alley just a short walk away.
Address: 50 Balmy St, San Francisco, CA 94110
Phone: (415) 285-2287
Mission Dolores Park
Not only can you soak up some sun at this popular green space, but you can also learn some of The Mission's history. You'll find statues like the Miguel Hidalgo Statue and Mexico Liberty Bell around the park. Grab some ice cream from Bi-Rite Creamery next door, check out the statues, sit out on the grass, do some people watching, and enjoy hilltop views of the San Francisco skyline.
Address: Dolores St & 19th St, San Francisco, CA 94114
Phone: (415) 554-9521
Calle 24 Latino Cultural District
24th Avenue is the cultural center for The Mission's Latino community. The street breathes Chicano and Mexican art and culture. Cultural highlights in The Mission's subdistrict include art spaces like the Acción Latina's Juan R. Fuentes Art Gallery and Precita Eyes Mural Arts Visitors Center, as well as the 24th Street Mini Park that's filled with gorgeous mosaic sculptures and murals. You'll also find a variety of Latino-owned businesses like Temo's Cafe and La Reyna Bakery & Coffee Shop. The Calle 24 Latino Cultural District non-profit organization also hosts events throughout the year, like a Día de Los Muertos celebration and Carnaval.
Address: 3250 24th St, San Francisco, CA 94110
Phone: (415) 658-7930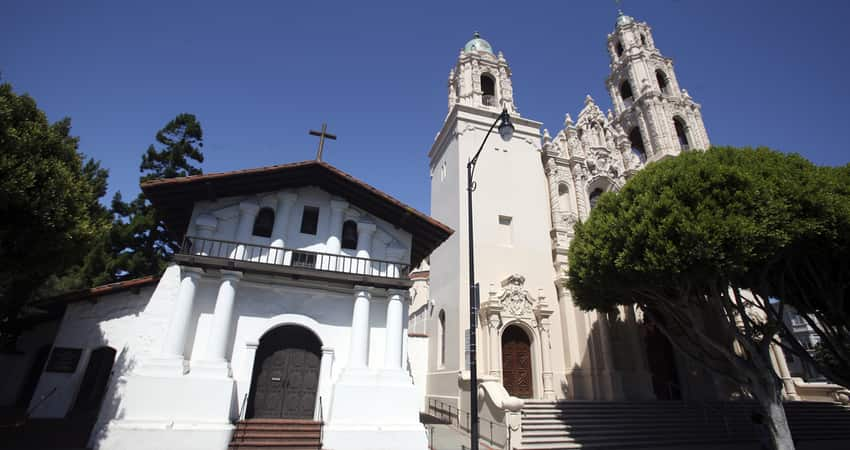 Misión San Francisco de Asís
Commonly referred to as Mission Dolores, Misión San Francisco de Asís is the oldest standing man-made structure in San Francisco. Built in 1776, this Spanish mission has served as a center for the Catholic community since it was established. The mission was originally established to evangelize the Ohlone Native American tribe, and strong influences of the tribe's art and culture can be seen in the building's design. The mission's historic church still hosts regular worship services, and a small museum is open to the public. Take a self-guided tour of the museum and learn about the way Spanish and Ohlone cultures meshed to establish this historic site.
Address: 3321 16th St, San Francisco, CA 94114
Phone: (415) 621-8203
Local Shops in The Mission
The Mission has a wide variety of small businesses that you should consider supporting on your group trip. Shop for books, handmade gifts, vintage clothes, and locally-made art. Securely store all of your goods on your charter bus as you explore the city.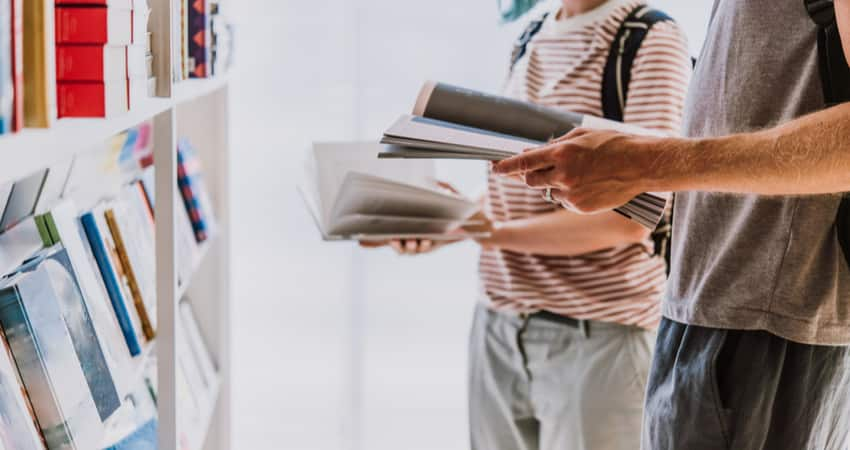 Dog Eared Books
If you're a bibliophile, stop at Dog Eared Books' Mission location to browse the cozy store's wide selection of independent and small-press works. You'll find a selection of new and used books, zines, and magazines for the whole family, including a curated selection of children's books in the Kid's Corner.
Address: 900 Valencia St, San Francisco, CA 94110
Phone: (415) 282-1901
Luz de Luna
Luz de Luna offers handcrafted goods like soaps, candles, and jewelry. The shop is packed full of vibrant items from Latino makers, including decorations for Dia de Los Muertos celebrations, religious goods like intricately painted crosses, a gorgeous variety of crystals, and kitschy gifts like themed socks and miniature animal figurines.
Address: 3182 24th St, San Francisco, CA 94110
Phone:  (415) 920-9988
Paxton Gate
Paxton Gate is a shop filled with curiosities from the natural world. The shop bursts with plants, crystals, minerals, unique home decor, and a whole lot of taxidermy animals. Don't worry, all of Paxton Gate's taxidermy animals are ethically sourced. The store's top priority is ensuring that every animal died of natural causes or was a part of a wildlife management program in its country of origin. You'll see everything from bats and butterflies encased in acrylic to taxidermy giraffes and marmosets.
Address: 824 Valencia St, San Francisco, CA 94110
Phone: (415) 824-1872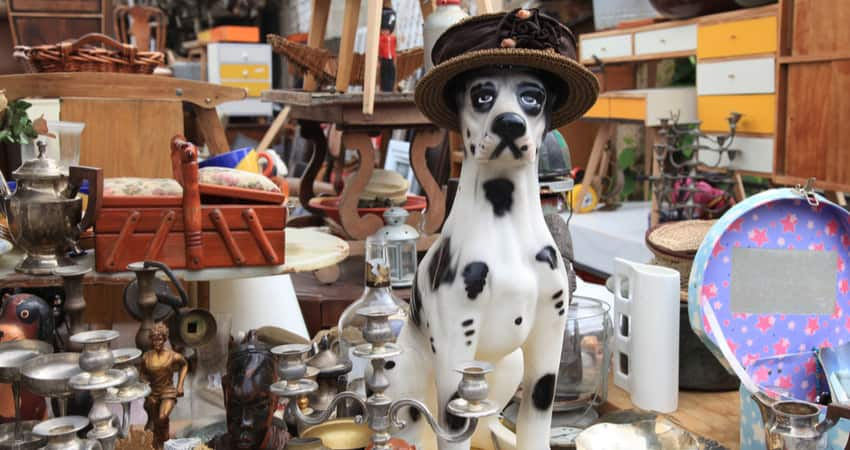 Stuff
Stuff is filled with, well—stuff! This sprawling thrift store has multiple floors filled with a curated collection of vintage clothing, furniture, and home items. If you're looking for one-of-a-kind pieces to add to your closet or home, this is the place for you. Browse their wide selection of mid-century modern furniture, art deco wall prints, and eclectic decor.
Address: 150 Valencia St, San Francisco, CA 94103
Phone: (415) 864-2900
Top Restaurants in The Mission
You can't visit The Mission without diving into the neighborhood's amazing food scene. With its longstanding Latin history, The Mission is where you'll want to go for authentic burritos, tacos, and other Mexican bites. If your group isn't in the mood for Mexican food, The Mission has other eateries with tasty international options.
La Taqueria
Arguably the most famous burrito spot in The Mission, La Taqueria is where you go for delectable no-frills dining. The cash-only restaurant serves traditional, rice-free burritos with flavorful options like carne asada and carnitas. La Taqueria also has vegetarian burritos and tacos for guests who don't eat meat. Grab a burrito and some agua frescas, and taste the flavors that earned this spot its shining reputation.
Address: 2889 Mission St, San Francisco, CA 94110
Phone: (415) 285-7117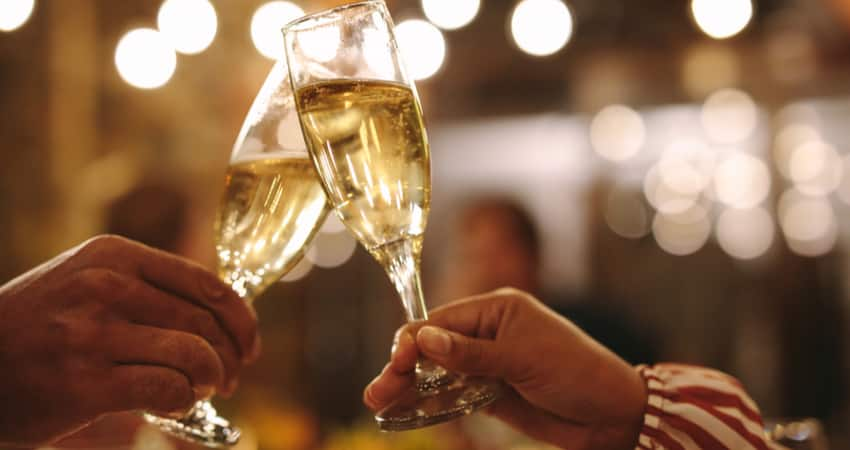 Foreign Cinema
Foreign Cinema is one of San Francisco's best brunch spots. This trendy restaurant serves up American-Mediterranean fusion fare like brandade, beef carpaccio, smoked salmon, and duck confit. Depending on when you visit, Foreign Cinema also shows indie and international films projected on one of the exposed concrete walls. The restaurant offers charming indoor and outdoor dining spaces, as well as private rooms for groups.
Address: 2534 Mission St, San Francisco, CA 94110
Phone:  (415) 648-7600
Pancho Villa Taqueria
Pancho Villa is another great taqueria option if fitting your group into bustling La Taqueria may be a tight squeeze. This taqueria is still overwhelmingly popular but has ample indoor and patio seating for groups. Pancho Villa Taqueria serves up classics like carnitas burritos and enchiladas and more unique options like a prawn burrito. If you're lucky, a local mariachi band may also be playing traditional music and putting on a show during your meal.
Address: 3071 16th St, San Francisco, CA 94103
Phone: (415) 864-8840
Dancing Yak Restaurant & Bar
Coming across Nepalese food isn't easy, so you'll want to stop for a meal at Dancing Yak when you're in The Mission. This artsy spot serves up traditional Nepalese food and Asian fusion bites like chicken momos, pork belly bhutwa, and daal bhat thali, as well as a variety of curry and tandoori dishes. Dancing Yak also has a full-service bar if you'd like to add a cocktail or two to your meal.
Address: 280 Valencia St, San Francisco, CA 94103
Phone: (415) 525-4857
Explore The Mission with San Francisco Charter Bus Company
Learn about The Mission's history, support local businesses, and fill up on tasty authentic food during your next group trip around San Francisco! Spend your time planning your trip and leave how you'll get from stop to stop up to San Francisco Charter Bus Company. Call 415-404-6456​ at any time to rent a bus in San Francisco for your group tour around The Mission!
Do you need to rent a charter bus?