San Francisco Group Tour for History Buffs
San Francisco is known for the many walks of life you can find here, from the LGBTQ+ community to the immigrant populations that call the Bay Area home. Diverse experiences mean diverse histories, so if you want to plan a history tour of San Francisco—well—you'll have a lot of ground to cover.
Not to worry! The San Francisco Charter Bus Company team rounded up some of the most historically significant sites in the city, just for you. And to make planning your itinerary easier, we divided this guide into categories based on the types of histories people tend to explore while in town:
Once you've picked your must-see historical destinations, San Francisco Charter Bus Company can help make the ride to every site and museum easy and comfortable. Call 415-404-6456, and our team can pair your history buffs with the ideal minibus or charter bus rental for your group's size and itinerary.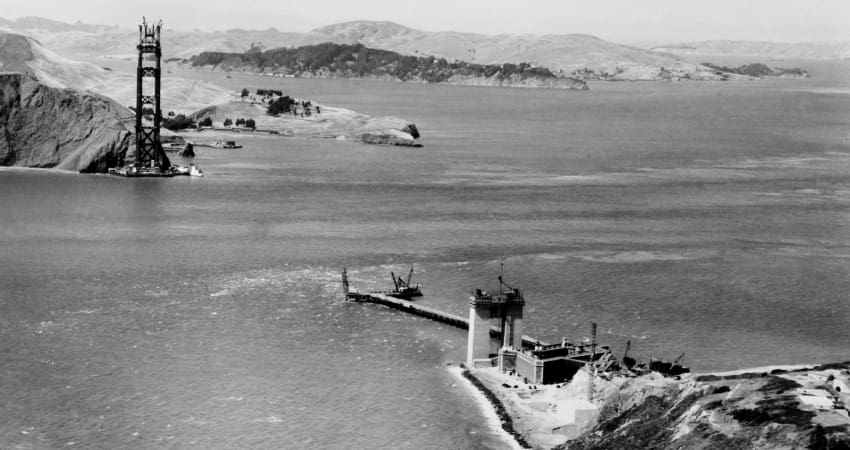 Popular Tourist Destinations (That Happen to be Historical)
Golden Gate Bridge
The Golden Gate Bridge may be one of the most photographed objects in the city, but did you know it was a big contributor to turning the town into a major city? Until construction wrapped up on this iconic San Francisco landmark in 1937, the most accessible way to and from the city was by ferry, which limited the city's growth. So in a way, this one-mile suspension bridge put San Francisco on the map!
One of the best ways to experience the Golden Gate Bridge is to cross it—which your group can do on foot or by bus. Driving across may be the fastest way to take it all in, but vehicles are not allowed to stop or pull over once they are on the bridge. If you're planning a history tour with stops for narration or photo ops, your group should consider walking the pedestrian route along the bridge.
Getting There: The Golden Gate Bridge Welcome Center offers six motorcoach-friendly parking spots, available on a first-come, first-serve basis.
The Presidio
This 1,480-acre park has meant a lot of things to people over the centuries. As early as A.D. 740, the Ohlone people seasonally gathered shellfish along the Presidio's shore—archaeologists found a shell mound in Crissy Field that says as much. Once colonizers moved in, this site acted as the northernmost military outpost of the Spanish empire in North America. From that point on, the Presidio played major roles in most conflicts in the Pacific, including the Spanish-American War, the Philippine-American War, and World War II.
While the Presidio transitioned from military base to public park in the mid-70s, many historical officers' quarters, barracks, and batteries still remain today. We recommend starting your history tour at the Presidio Visitor Center, where your group will find maps of the grounds and interactive exhibits. From there, you'll want to tour the Presidio Officer's Club, which offers exhibits that cover thousands of years of the peninsula's history. Other points of interest include the Fort Point National Historic Site, the San Francisco National Cemetery, the Military Intelligence Service Historic Learning Center, and the Korean War Memorial.
Getting There: Depending on which parts of the Presidio your group wants to visit, there are many oversized vehicle parking, loading, and unloading options available:
At the Golden Gate Bridge Welcome Center, as described above.
At Langdon Court along Lincoln Boulevard, which is the closest parking to the battery ruins along the northwest side of the park, as well as the historic San Francisco National Cemetery.
At the Crissy Field Overlook along Lincoln Boulevard, you'll find a single bus parking spot with views of the Bay and Alcatraz Island.
Along Montgomery Street, there are a few streetside parking spots outside the Walt Disney Family Museum.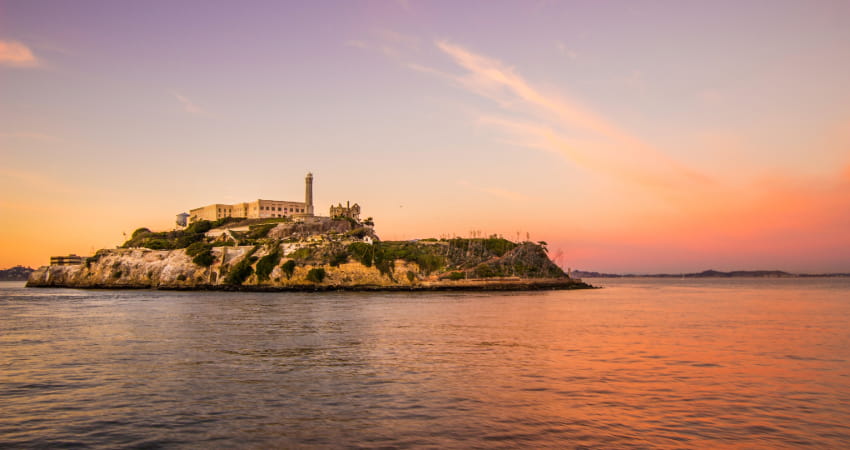 Alcatraz Island
Alcatraz's long and storied history extends beyond the infamous prison positioned on this rocky island. It has also housed the first lighthouse on the U.S. west coast, a military installation, and pivotal Native American Civil Rights Movement protests in the 1960s. Whether your group ventures out for an hour-long audio tour of the jailhouse, a look at the graffiti left by activists, or a walk around the ruins of the 1840s fort that was once here, you're sure to leave having learned something new about the Bay Area.
Getting There: Only one official ferry provider services the island: Alcatraz Cruises LLC, which departs from Pier 33. Have your charter bus driver drop your group off near the pier and wait for you at Fisherman's Wharf until you return.
Victorian Houses and Structures
The Painted Ladies
During your tour of the city, keep an eye out for two-story, wooden homes painted in three-color palette combinations that enhance the architectural details. Back in the Victorian and Edwardian eras, the flashy and intricate exteriors of these homes were all the rage—in fact, 48,000 houses in San Francisco were built in this style. Unfortunately, many homes of this construction were destroyed in a 1906 earthquake, and many more were painted a dull battleship gray or demolished for scraps during World War II. It wasn't until the late 1960s that residents began bringing colorful exteriors back to the few remaining Victorian homes in Haight-Ashbury.
Alamo Square Park is one of the best places for a photo op with San Francisco's most iconic Painted Ladies. Keep in mind that this area is a residential neighborhood, so you won't be able to tour their interiors—but you can plan a picnic in the park and admire their beautiful exteriors from there!
Getting There: Due to the neighborhood's narrow streets and century-old homes, charter buses are not allowed within two blocks of Alamo Square's Painted Ladies. Your driver can drop your group off in the 5-minute loading zone along the north side of Fell Street, near Ida B. Wells High School.
The Conservatory of Flowers
Address: 100 John F Kennedy Dr, San Francisco, CA 94118
Need a break from the Bay Area's chilly and gloomy weather? This opulent, tropical greenhouse is the oldest building in Golden Gate Park and the oldest municipal wooden conservatory in the U.S.—first opening to the public in 1879. The original structure housed local collectors' rare tropical plants during the dreary San Francisco winter. The 12,000 square-foot conservatory also contained a fountain, an orchid wing, and an aquatic plant gallery with a large pond that showcased the Conservatory's first major exhibit: the Victoria Regia. This giant water lily, with leaves that grow several feet in diameter, was the first of its kind to be grown in California.
After falling into decades of disrepair due to fires, wind storms, and budget cuts, this historic landmark has been revitalized and reopened in 2003. Today, guests will see many of the same types of aquatic plants that visitors would have admired at the turn of the century, along with other tropical varieties from around the world.
Getting There: There are two charter bus loading zones nearby. One is east of the Conservatory's entrance, along the south side of JFK Drive, and one is west of the entrance, along JFK's north side.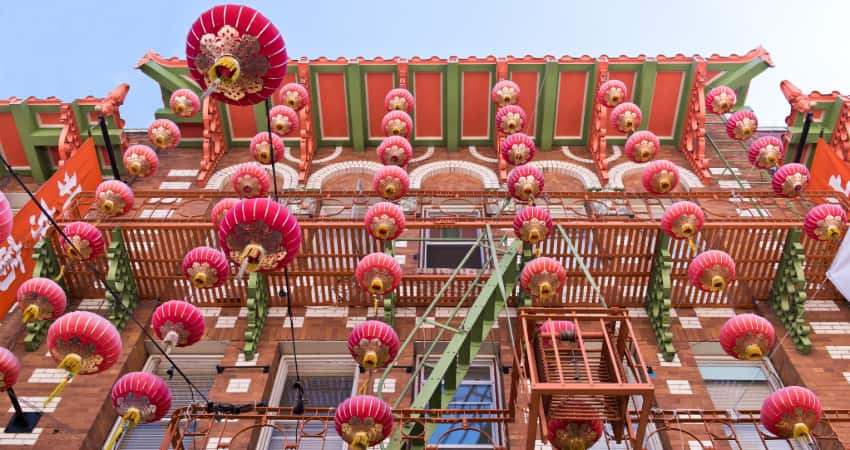 Asian-American History
Angel Island
Located out in the bay, 6 miles from San Francisco, this state park once was a hunting and fishing spot for local tribes before settlers came in and later was a military outpost during the Spanish-American War. Most notably, though, this island served as one of the primary immigration stations on the West Coast between the 1890s and 1940s.
While the old administration offices have been lost to a fire, the barracks have since been converted into a museum and learning center. There, your group can learn about the hardships Asian immigrants faced in the early 1900s, when San Francisco immigration laws were at their harshest. The 1-hour tours of the Immigration Station are led by park staff and volunteers, and the site can accommodate 90 people at a time.
Getting There: The island is served by two ferry companies: one that departs from Fisherman's Wharf and one that departs from Tiburon, in Marin County. While loading and unloading your bus shouldn't be a problem at the Tiburon ferry port, your driver will need to find one of the 18 designated bus loading zones in Fisherman's Wharf if you're taking a ferry from the city.
Tianhou Temple
Address: 125 Waverly Pl, San Francisco, CA 94108
Founded in 1852, this building houses the oldest Taoist temple in Chinatown and one of the oldest still-operating temples in the United States. It has closed several times over the years due to natural disasters—including the 1906 earthquake, which destroyed the entire building except for the altar, the temple bell, and an image of the goddess it's devoted to—but the temple always reopened in this very building.
The Tianhou Temple is open most days between 10 a.m. and 3 p.m., except on major holidays. You can walk around and pay your respects for free, but donations are definitely welcome. Be sure your group dresses modestly, covering shoulders and knees and removing hats before entering.
Getting There: When your charter bus driver drops off your group in Chinatown, they will need to do so on the east side of Columbus Avenue, near the five-way intersection that's across from the Transamerica Pyramid.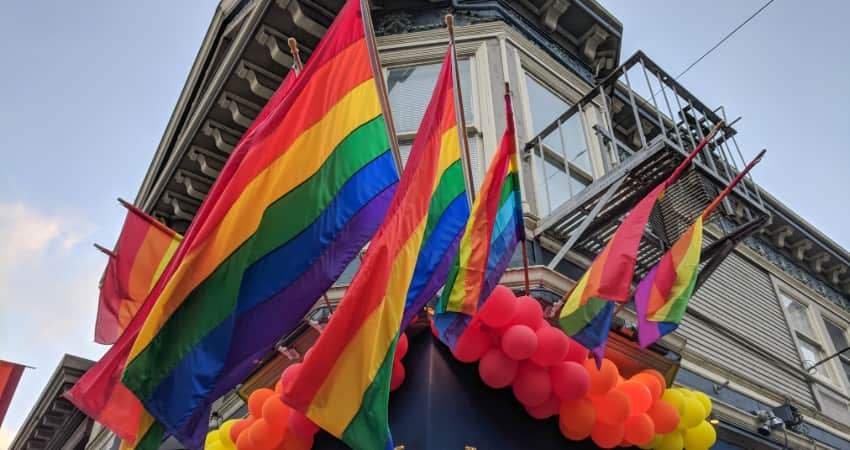 LGBTQ+ Historical Landmarks
Castro Camera
Address: 575 Castro St, San Francisco, CA 94114
The site now stands as the Human Rights Campaign store and action center, but this LGBT landmark used to be a campaign center for Harvey Milk, the first openly gay politician to be voted into U.S. public office. Milk ran Castro Camera from  1972 to 1978 and lived above the store for most of that time, and the storefront quickly became a gathering place for the city's growing LGBTQ+ community. If your group wants to learn more about the building's history, stop by the shop to check out the clothes and the HRC employees will be happy to answer any questions you might have.
Getting There: There's a 20-minute charter bus loading zone located on the west side of Dolores St, south of 16th St. From there, Castro Camera is only two blocks west.
GLBT Historical Society Museum
Address: 4127 18th St, San Francisco, CA 94114
As the first stand-alone museum in the country dedicated to the history and culture of the LGBTQ+ community, it's no wonder why this Castro museum is often nicknamed the "Queer Smithsonian." Despite its relatively small floor space, this museum has exhibits packed with photos, letters, audio accounts, and clothing that cover a range of queer-adjacent topics—from local heroes like Harvey Milk to the histories of people who often don't receive recognition, such as trans people, queer women, and people of color in the community.
Getting There: Your group can disembark your bus in the same place you would for Castro Camera: the designated loading/unloading zone outside Mission Dolores Park.
Start Planning Your San Francisco History Tour
Whether your history buffs are interested in sightseeing, military history, or the LGBTQ+ community, there's something for everyone to learn in San Francisco. Taking your history class or tour group out to see it all doesn't have to be a hassle—especially when San Francisco Charter Bus Company is on your side. We'll connect you with a modern minibus or charter bus rental to keep everyone together. You can even request comfort-minded amenities like TVs for screening documentaries, a PA system for on-the-road announcements, and reclining seats for relaxing after a long day of walking!
Call 415-404-6456 today to receive a free, no-obligation quote for your personalized history tour bus rental in San Francisco.
Do you need to rent a charter bus?