San Francisco "Deep Cuts" for Frequent Travelers
If you've been to San Francisco for business or leisure, you probably know that attractions such as the Golden Gate Bridge, Alcatraz Island and Fisherman's Wharf are some of the most populated places in the city. Just hearing them in conversation is probably enough to make you sigh loudly in frustration. But all hope is not lost, because San Francisco Charter Bus Company has just the remedy for you if you're stuck in a Bay Area rut.
We've listed our top recommendations for some of the best hidden gems in San Francisco. From water activities to unusual museums, we've covered everything we feel your group of travelers will love. When you've chosen your destination, leave it to us to pair you with a spacious charter bus or a cozy minibus rental to get you going on your way. View our portfolio of bus rental options, or simply contact us at 415-404-6456 for a free trip quote!
For groups that love oceanside views: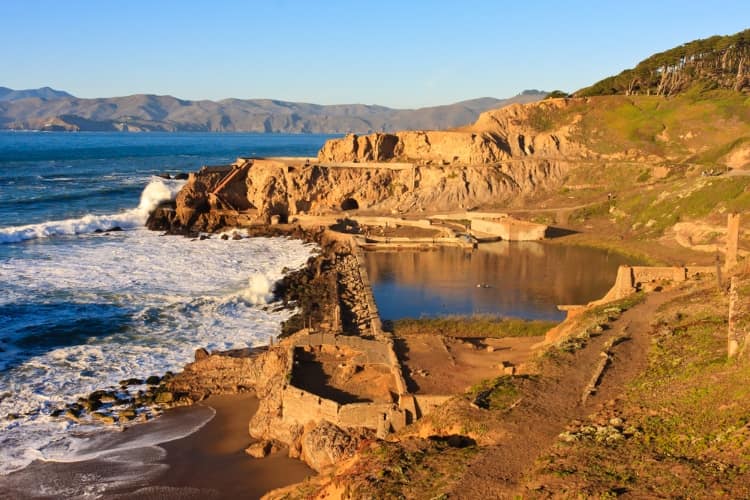 Sutro Baths Ruins and Cave
Fans of historic ruins and Grecian bath houses will find the Sutro Baths captivating. Built in 1894 by Adolph Sutro, this used to be the world's largest indoor swimming pool, with water streaming in from the Pacific Ocean. (Fun fact: at high tide, the ocean could fill up the pools with 1.7 million gallons of water in an hour!) Unfortunately, the swimming facilities closed during the Great Depression, but the incredible architectural remains lie in the Golden Gate National Recreation Area.
Plan on going to the baths before sunset so that you can capture incredible photos of the seascape or snap selfies with your group. If you choose to use professional camera equipment for the occasion, you can store it in your bus's overhead cabins so that it isn't ruined by the saltwater or balmy air. Your bus driver can drop you off right by the site, so that you don't need to walk too far to get to the ruins, and nearby parking facilities will make it easy for your driver to find a spot. If you feel hungry after, consider stopping by Cliff House for magnificent views and great food.
Take a charter bus to: 1004 Point Lobos Ave, San Francisco, CA 94121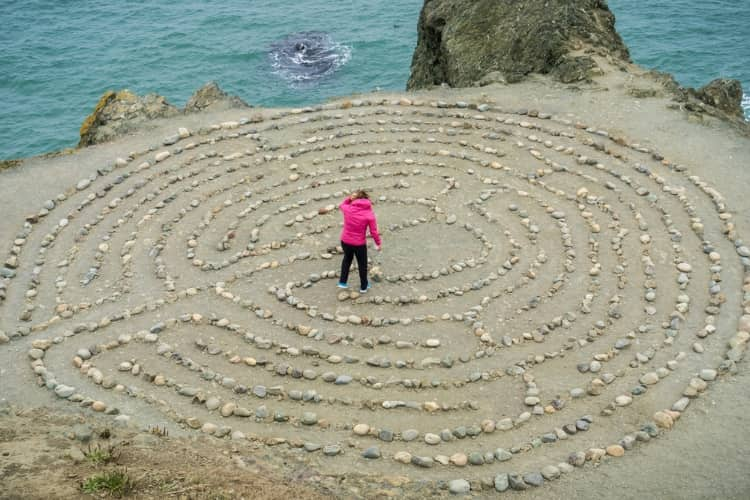 Labyrinth at Lands End
We've all seen thriller movies containing complex mazes and mystical creatures, but you have yet to see the Labyrinth at Lands End. This man-made creation is as magical as the name suggests, with a series of stone outlines in a seven-circuit Chartres labyrinth shape, located right by the point where the shore meets the ocean. The labyrinth's main purpose is to serve as a secluded meditation site where you can connect with nature while hearing the waves crash against the rocks. When it's lit up with candles, it truly follows the artist's primary aim of conveying "peace, love and enlightenment" to the world.
On a sunny day, you can plan a yoga outing at the Labyrinth, where you can connect with your group over positive affirmations and empowering breathing exercises. A perk of traveling in a charter bus rental is that there's plenty of storage space for all your yoga mats, blocks and weights. In addition, if you feel like you need to use a restroom after your yoga session, you can use the one on your charter bus rental instead of hunting around for a bathroom by the sea.
Take a charter bus to: Lands End Trail, San Francisco, CA 94121
For groups that are interested in artistic creations: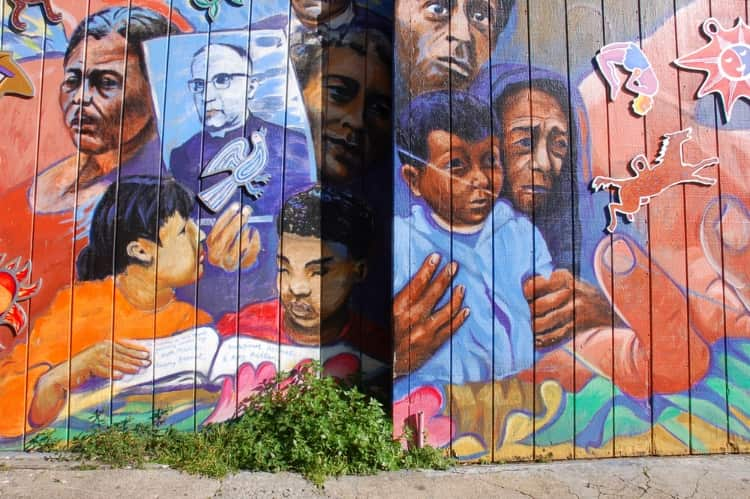 Balmy Alley
If you're a patron of the arts, or simply a person that appreciates colorful creations, visit the Balmy Alley for an easy way to explore great art for free. It's a street in the Mission District neighborhood of San Francisco with the most concentrated collection of murals in the entire city. Many of them originate from the 1980s and contain gripping content about political mistreatment and human rights violations.
Most people recommend exploring the alley by foot, but when you're in a large group that's unfamiliar with the area or local subway stops, traveling in a bus rental is your best bet. Since your driver will need to park in one of the smaller side streets by Balmy Alley, it's essential to have money on hand in case there's metered parking. Once that's taken care of, your group can wander around the fine art creations independently or join a guided tour conducted by the Precita Eyes Muralists. When you're done, feel free to board your bus rental and cool off in the climate-controlled environment or lean back in the comfortable reclining seats.
Take a charter bus to: 50 Balmy St, San Francisco, CA 94110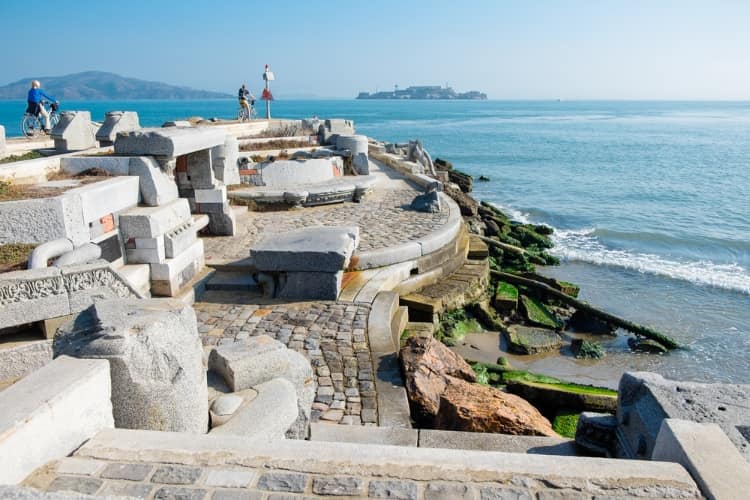 The Wave Organ
There are moments when man and mother nature join forces to create some of the most fascinating artistic depictions, and the Wave Organ is one of them. This wave-activated acoustic sculpture is situated on a jetty by the San Francisco Marina District. The sculpture itself contains 25 organ pipes constructed out of PVC and concrete and scattered throughout the site at various levels so that they create sounds based on the fluctuating tides at different times of the day. When ocean water enters the pipes or collides against them, eerily beautiful musical symphonies are produced.
The ideal time to visit this musical marvel is at high tide, since that's when the sounds are more noticeable and the music is more defined. Since high tide may be during the earlier hours of the day, say 5:00 am, it's essential to board your charter bus rental on time so you can witness this sculpture in action. Take a nap on the journey to and from the Wave Organ on your comfortable reclining seats or eat breakfast on the bus and get appropriately caffeinated for your adventure.
Take a charter bus to: 83 Marina Green Dr, San Francisco, CA 94123
For groups that enjoy eccentric adventures: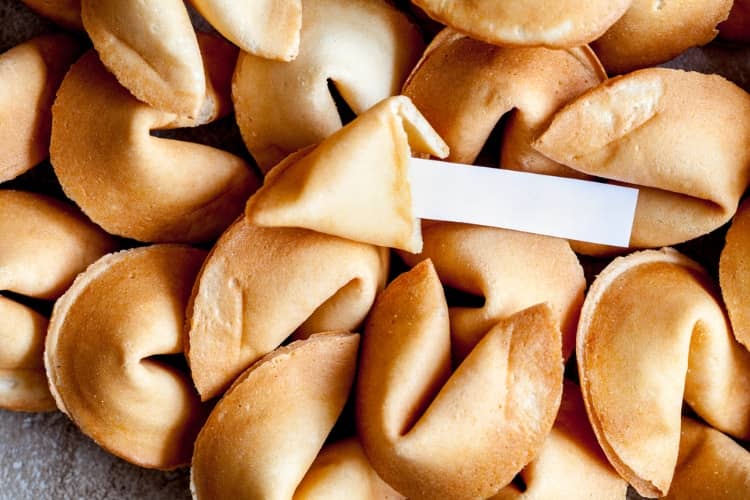 Golden Gate Fortune Cookie Factory
Reading fortunes from fortune cookies is a guilty pleasure for most of us, but have you ever wondered how these sugary treats are made? Get answers to all your questions at the Golden Gate Cookie Factory, a haven for those that have a sweet tooth and a penchant for baking.
The factory makes around 10,000 fortune cookies a day on a rotating cast iron griddle wheel, and they offer daily tours for groups interested in seeing the method behind the craft. They also give visitors the opportunity to pick their own fortunes to go inside their cookies for a more customized approach. As a bonus, the factory is merely 15 minutes away from The Original Ghirardelli Ice Cream & Chocolate Shop if you're craving delicious ice cream to go with your handmade cookie. All you need to do is build your itinerary and let your driver take you around—the world is your oyster.
Take a charter bus to: 56 Ross Alley, San Francisco, CA 94108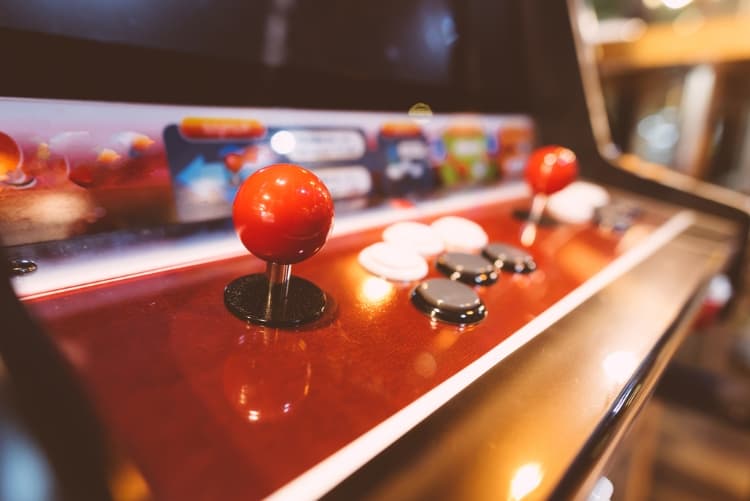 Musée Mécanique
Gamers and arcade enthusiasts will never want to leave Musée Mécanique, one of the largest private arcade facilities and home of over 300 coin-operated mechanical machines. From antique slot machines to fortune-teller machines, there's enough variety to keep people of any age entertained.
The museum is open all year round, and each game costs about $1 to play. Large groups are encouraged to bring enough quarters to last them throughout the day but are not allowed to bring in any food or drinks, since most of the machines are antiques. If you're arriving at the museum after lunch, leave your snacks in the charter bus rental instead of throwing them away on your way in. They'll be safely stored in the luggage bins on the bus until you're ready for another bite on your way out!
Take a charter bus to: Pier 45, Fishermans Wharf, San Francisco, CA 94133
For groups who want to spend a day outdoors:

Angel Island State Park
Forget Alcatraz, and take in the magnificent views of the Bay Area by planning a day trip to Angel Island State Park, known as a California Historical Landmark and a National Historical Landmark due to its rich military and immigrant history. It's the second largest island in San Francisco Bay and is ideal for picturesque walks, hikes or biking with friends.
The island is famous for being home to Camp Reynolds, one of the oldest Civil War-era buildings, as well as its role as an Immigration Station for Chinese immigrants until 1940. Your group has the opportunity to join guided tram or segway tours on the island to take in its historical sights or to kayak around the island if you enjoy water activities.
In order to reach Angel Island, your group will need to take a private boat or a public ferry from Tiburon or San Francisco. Your charter bus driver will drop you off by the loading dock and wait for you until you return from your voyage.
Take a charter bus to: Tiburon, CA 94920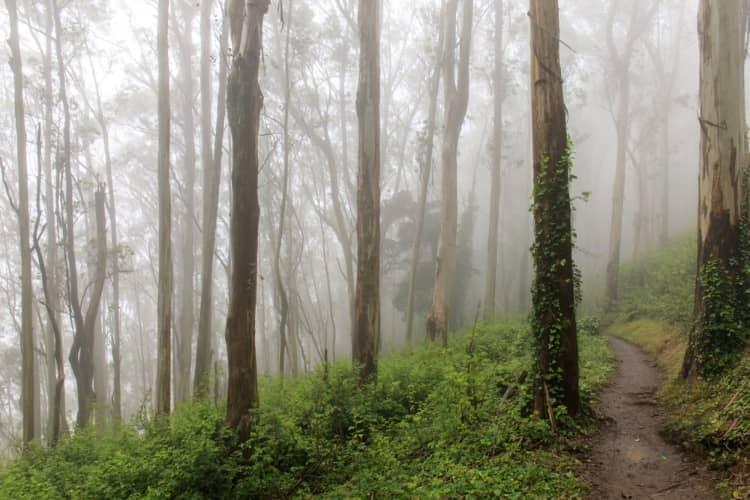 Mount Sutro
If you're looking for another opportunity to hike and interact with nature, add Mount Sutro to your charter bus itinerary. This 900-foot hill located in central San Francisco is surrounded by a dense forest of eucalyptus trees that run along its slopes. The trees were planted by the same Adolf Sutro responsible for the Sutro Baths, and the hill is considered to be a historical site in the city.
Since the forest is in a secluded area, it's a great place to get away from the hustle and bustle of central San Francisco. Stroll through the forest and admire the towering trees or identify the 45 different species of birds who live safely amongst the leaves. The fog that floats below the mountain and into the forest creates one of the most enchanting experiences you can witness in San Francisco.
Walk with your group on one of many trails throughout the forest or ride a mountain bike for a more fast-paced journey. Since the forest is slightly wet and muddy, it's important to bring rain gear and an extra pair of shoes to withstand the dampness. When you're ready to go home, you can wash off the mud and clean up in the restroom on the bus.
Take a charter bus to: San Francisco, CA 94131
Discover San Francisco's Hidden Gems Today
Found a hidden gem you absolutely need to visit? No worries—San Francisco Charter Bus Company is here to make group travel within the Bay Area easy and more enjoyable. Whatever destination you choose, our 24/7 transportation services will ensure that your group gets there on time and makes the most of your memorable experience. Whether you're part of a team of corporate executives, on a school field trip, traveling for a sports game, attending a loved ones wedding or simply on vacation with your friends, we've got the right bus rental for any occasion.
Get access to on-the-go bus amenities such as free WiFi, flat-screen TVs, power outlets and onboard restroom facilities. There's no limit to the ways you can customize your trip with San Francisco Charter Bus Company. Simply view our bus prices to get an estimate of what your trip will cost, or contact us at 415-404-6456 to speak to a reservation team today!
Do you need to rent a charter bus?