The Best San Francisco Restaurants for Large Groups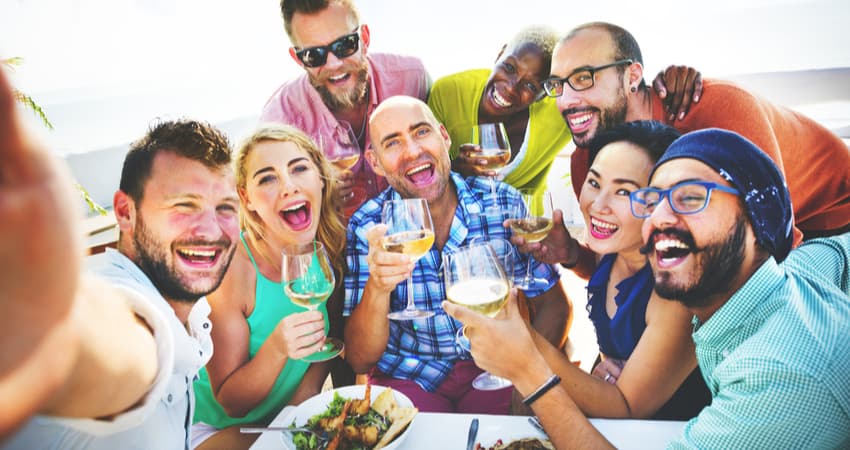 A tasty meal is always better spent with your favorite people, especially when you're celebrating a special occasion. Finding a Bay Area restaurant to accommodate a handful of people is easy. There's seemingly a restaurant on every corner in San Francisco neighborhoods like The Richmond and The Mission. But what if you've got a group of 15 friends together for birthday festivities? Or maybe you're organizing a wedding rehearsal dinner with 30 guests? If that's the case, picking a restaurant will require a bit more planning.
It's understandable if you're having a tough time deciding among San Francisco's many restaurants. Seriously, choosing between tasty sushi and decadent Mediterranean fare can be hard. That's why I've compiled a list of a few local favorites that are perfect for group dining.
When choosing your dining spot you'll want to consider the occasion, group size, and everyone's dining preferences. You'll also want to consider how everyone will get there. Leave the group transportation up to San Francisco Charter Bus Company. With a minibus or charter bus rental, you'll have a smooth ride to and from your dining experience. Book your restaurant reservation and then rent your bus by calling 415-404-6456. You can even request a charter bus with additional amenities like WiFi, TVs with DVD players, and reclining seats for ultimate relaxation after a big meal.
A quick note: At this time, you'll want to keep in mind that some restaurants are limiting capacity, which means that private dining events may be more difficult to plan. Many restaurants are also requiring all indoor dining guests to have proof of vaccination for Covid-19. Just be sure to brush up on each establishment's rules and regulations before making a reservation or planning an event.
Now let's get into the good stuff—the food!
25 Lusk
Great for: corporate social events, adult birthday celebrations, and wedding receptions
Cuisine: New American
Address: 25 Lusk St, San Francisco, CA 94107
Phone: (415) 495-5875
If you have guests you want to impress, 25 Lusk is the place to do so. This SoMa hotspot is just a few blocks from AT&T Park and is known for its impressive modern architecture, hip rooftop bar, extensive cocktail menu, and high-quality American fare. Popular dishes include grilled octopus, succulent short ribs, and chicken-fried quail.
25 Lusk has a variety of semi-private and private dining options that can accommodate anywhere from 6 to 75 guests. Book a cocktail room to kick off a birthday celebration with friends or reserve a few lounge bays for your company's happy hour.
Group travel tip: Worried about guests enjoying 25 Lusk's seasonal cocktails a little too much? Don't worry about hailing rideshares for everyone. Reserve a minibus shuttle service with San Francisco Charter Bus Company. Every vehicle comes with a professional bus driver as your group's built-in DD.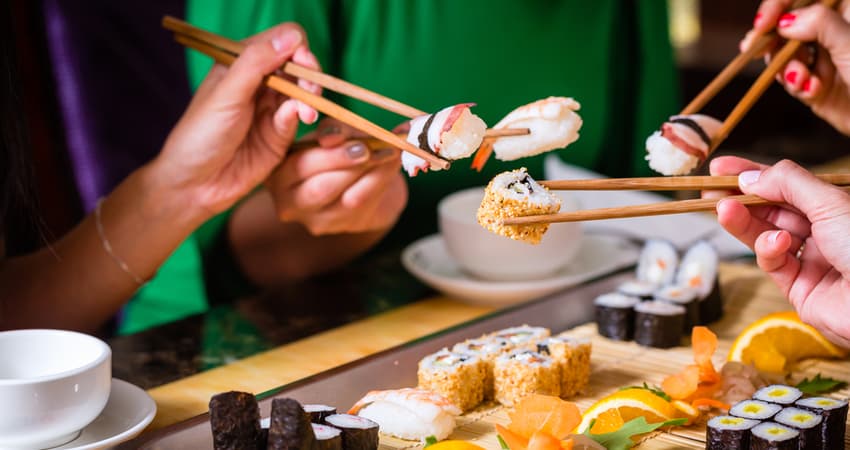 Yoshi's
Great for: birthday celebrations, bachelor and bachelorette parties, and groups of music lovers
Cuisine: Japanese
Address: 510 Embarcadero West, Oakland, CA 94607
Phone: (510) 238-9200
Yoshi's is located across the bay in Oakland but is well worth the trip, especially if you have a personal driver taking care of the roads. This Oakland restaurant opened in 1972 and has been serving up a variety of sushi, tempura, and other Japanese fare ever since. But what makes Yoshi's stand out among the Bay Area's many Japanese restaurants? The restaurant also has a nightclub and lounge area that's a popular jazz venue. If you're looking for amazing in-house entertainment alongside delicious food, choose Yoshi's for your group dining event.
There are private dining rooms as well as semi-private areas (separated by elegant shoji screens) for 10 to 90 guests. Booking the sushi bar is great for small groups, and areas like the Claremont Room are better for large events. All of Yoshi's group dining options can be upgraded with a show package with premium seats to round out your night with a lovely musical performance.
Group travel tip: Since it's such a busy restaurant and music venue, parking several cars around Yoshi's can be a challenge. Rent a minibus to shuttle everyone to Yoshi's and around the rest of the Bay Area throughout your evening.
Foreign Cinema
Great for: non-profit events, corporate events, and wedding receptions
Cuisine: Mediterranean
Address: 2534 Mission St, San Francisco, CA 94110
Phone: (415) 648-7600
Looking for a cool, artsy space to plan a special event? Foreign Cinema will surely surpass your expectations. It's been a Mission District favorite since 1999 and has racked up quite a few nominations as the Bay Area's best restaurant. Foreign Cinema's industrial decor is highlighted by curated modern art and, true to its namesake, foreign and independent film screenings on the outdoor patio. The restaurant specializes in Mediterranean cuisine that is heavily influenced by California's dining culture, bringing to the table dishes like brandade, fresh oysters, and beef carpaccio. Foreign Cinema also boasts an exceptionally popular bunch, offering crowd favorites like baguette French toast and croque madame.
Foreign Cinema's private dining spaces can work for seated dining and standing receptions of 12 to 100 people. Host a company happy hour at Laszlo, Foreign Cinema's adjoining bar, or book the Modernism West Gallery for an arts non-profit soiree. Groups of up to 12 people should definitely consider booking the restaurant's director's table. This intimate space offers an open view of the restaurant's outdoor courtyard and film screenings.
Group travel tip: Self-parking around The Mission can be a nightmare. Instead, opt for a shuttle bus to transport your event attendees from off-site lots. Guests won't have to worry about circling the block or tailing people to find a spot: they can just hop right off a charter bus and into Foreign Cinema.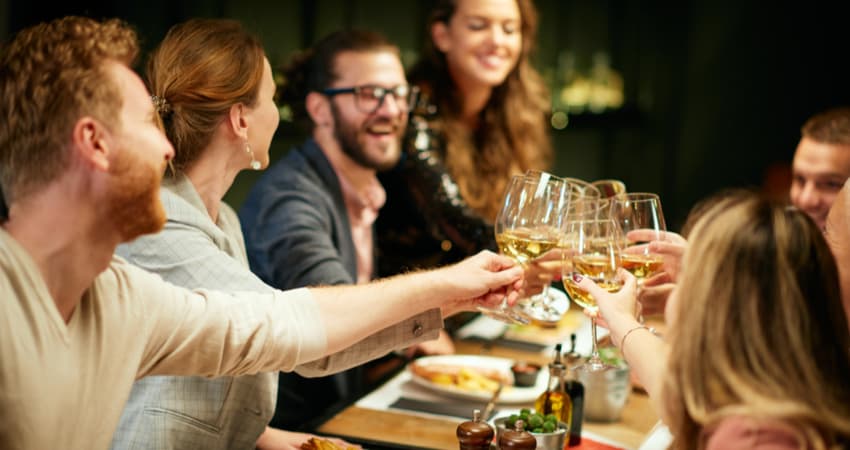 Piperade
Great for: private social events and small receptions
Cuisine: Basque
Address: 1015 Battery St, San Francisco, CA 94111
Phone: (415) 391-2555
The Basque country is an area that stretches between Spain and France and has a rich culture with unique cuisine. Basque cuisine can be difficult to track down, even in large cities. Piperade is here to deliver all the flavors you're looking for. The restaurant is located in San Francisco's North Beach neighborhood and offers authentic Basque flavors in a cozy and welcoming atmosphere. Indulge in a delicious meal with popular dishes like Dungeness Crab Txangurro, piquillo peppers, and roasted lamb. Be sure to leave room for one (okay, maybe two) of Piperade's desserts like Gâteau Basque and a popular seasonal mushroom tartlet.
Piperade is a relatively small restaurant and wouldn't be suitable for events like large wedding receptions or company events. But if your event has around 30 guests, Piperade's Lauburu Private Room is the perfect space for you. The room has a bright and elegant decor, complete with views of the restaurant's extensive wine cellar. Menus and wine pairings can be tailored to your event and each guest's dining needs.
Group travel tip: Piperade actually has a decent amount of street parking (which can be rare for San Francisco),though, organizing an event in the busy North Beach area can still be tough on weekends and during weekday rush hour. If you're planning a 30-person event on top of Piperade's typical dinner rush, your guests may have a difficult time parking. Why not plan your event on a weekday evening and reserve a shuttle bus for your guests?
Waterbar
Great for: group happy hours and business lunches
Cuisine: New American/Seafood
Address: 399 The Embarcadero, San Francisco, CA 94105
Phone: (415) 284-9922
Looking for a top-quality waterfront restaurant to impress business guests? Good thing San Francisco has plenty to choose from! True to its name, Waterbar is located waterfront in The Embarcadero, giving restaurant-goers postcard-worthy views of the Bay and the Bay Bridge. Waterbar specializes in sustainable seafood and seemingly has any and every type of dish you could want. With around a dozen varieties of oysters and a wide selection of shellfish and caviar, Waterbar is a seafood lover's dream. The waterfront restaurant also has one of the best happy hours in the city (everyday 2-5pm), with $1 oysters and select drinks under $10.
If booking a private dining space is on your to-do list, Waterbar has 3 private spaces that can accommodate 24 to 75 guests (capacity depends on whether you're hosting a seated or standing event). The Looking Glass is the restaurant's only indoor/outdoor space that gives guests outstanding views of the water and bridge.
Group travel tip: Hosting a private company happy hour at Waterbar is a great way to treat colleagues. Consider taking an extra step and handling  their transportation to show your appreciation. If your guests plan to drive themselves, they'll have to brave finding street parking around The Embarcadero or pay $20+tip for valet service. Book a full-sized charter bus for your large event at Waterbar so all of your guests will have a designated ride. Motorcoach parking can be found at the nearby Mission Rock parking lot. After your event is over, your driver can swing back by the restaurant.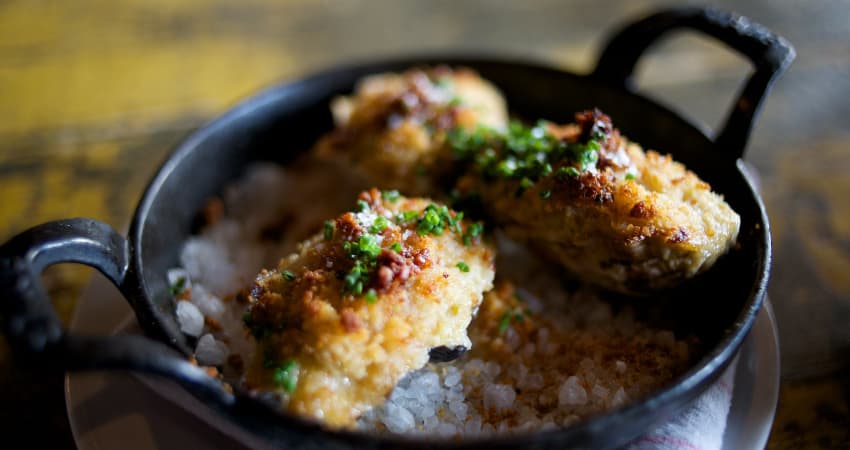 Marlowe
Great for: small birthday celebrations and social gatherings
Cuisine: New American
Address:  500 Brannan St, San Francisco, CA 94107
Phone: (415) 777-1413
Marlowe is a small but charming bistro in the heart of San Francisco's Mission Bay area. It's a casual restaurant with a slightly upscale flair, making it a great location for occasions like birthday brunches and bridal showers. On the menu, you'll find elevated American bites like baked oysters, steak tartare, signature burgers, and top-selling Brussels sprouts chips. Marlowe is a local favorite and can get exceptionally crowded, so dining groups of every size should make a reservation or private event request.
One of the biggest highlights of Marlowe's space is the patio. The small private space is accented with beautiful plants and suitable for up to 16 guests for a seated event. You can also rent out the entire restaurant for larger events of up to 80 people. If you want an equally charming but smaller space, head around the block to their sister restaurant Petit Marlowe. This wine bar and oysterette can accommodate up to 49 people for a seated dinner or 65 for a standing reception.
Group travel tip: Similar to many other restaurants in Mission Bay, Marlowe doesn't have its own parking lot. All parking options are along the street or in nearby private garages and lots. These often fill up on San Francisco Giants game day, as AT&T Park is just a few blocks away. If possible, try to avoid planning your event on a game day to help guests avoid traffic.
Rent Event Transportation with San Francisco Charter Bus Company
From corporate happy hours to wedding events and everything in between, San Francisco Charter Bus Company will ensure your transportation is handled. When you call 415-404-6456, a rental expert will get you a quick, no-obligation quote for your trip. You'll just need to have a few details on hand like group size and event dates, and they'll be able to get you an accurate charter bus price. Book your charter bus at any time. Rental experts are available to help you 24/7.
Do you need to rent a charter bus?