Guide to San Francisco Parks
San Francisco is a city that has something to offer everybody. Foodies can enjoy the city's Chinatown district and incredible restaurants. History buffs can dive into San Francisco's rich history including Victorian houses, Asian-American history structures, and more. Techies can geek out in the heart of Silicon Valley, where the most influential companies in the world have their headquarters. Those who like darker history can even witness Alcatraz Island, the site of the former infamous prison.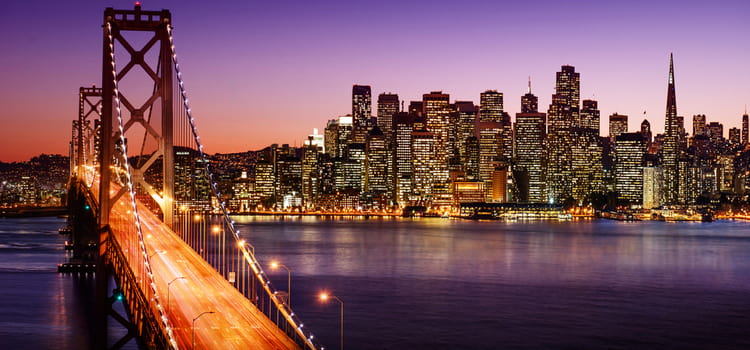 The city's many attractions for all interests make it a great place to travel in groups. But as with any city with lots to offer, parking and driving can be frustrating and take away from the enjoyment of the trip. San Francisco Charter Bus Company is here to help with that.
Charter buses with our company can accommodate groups as small as 18 people (perfect for wedding parties) or as large as 56 people (great for sports teams and school trips). Charter buses include amenities for comfort such as WiFi, reclining seats, flat-screen TVs, and more! Call us any time at 415-404-6456 to speak with an experienced representative who can help you with your group's needs.
For the outdoorsy, adventurous group, here is a guide to some of San Francisco's best parks.
Golden Gate Park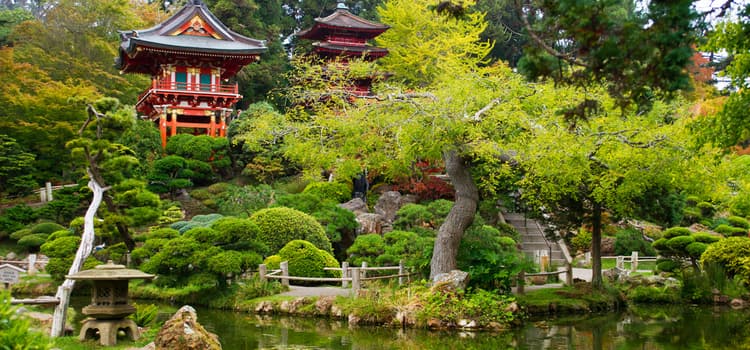 The Golden Gate Bridge is arguably San Francisco's biggest claim to fame, and one of their biggest tourist attractions. One of the most recognized and photographed bridges in the world, it's been named one of the Wonders of the Modern World by the American Society of Civil Engineers.
The Golden Gate Park is also the biggest and most popular outdoor park in San Francisco, covering a whopping 1,017 acres of urban area. There is loads to see and do with a group in the Golden Gate Park. Here are some of the highlights:
Japanese Tea Garden 
The Japanese Tea Garden is the oldest Japanese garden in the United States. It features a classical zen garden, and a 9,000 Lantern of Peace, a gift from the Japanese government in hopes of mending relationships with the United States after World War II. You can also expect to find tranquil stone paths and a variety of plant life.
Address: 75 Hagiwara Tea Garden Dr, San Francisco, CA 94118
Charter Bus Parking: The garden does not have its own parking lot, but your charter bus can either drop your group off or park in the Concourse Drive bus parking area.
California Academy of Sciences
Founded in 1853, only three years after California was officially made into a state, the California Academy of Sciences is the oldest scientific institution in the western United States. The museum features exhibits on natural history, aquatic life, astronomy, gems and minerals, and earthquakes, and spans 37,000 square meters. The academy also features a "living roof" with more than 1.7 million native California plants.
Ticket costs range from $35-$40 a person, depending on the day of the week and time you go. Groups of ten people or more are eligible for a 10% discount on tickets, too!
Address: 55 Music Concourse Dr, San Francisco, CA 94118
Charter Bus Parking: The Music Concourse Garage is a great option if you want to use a parking garage, but there is also street parking on nearby MLK Drive, Nancy Pelosi Drive, and Stow Lake Drive.
In addition to established buildings and parks, you can find a number of other natural and manmade features worth seeing at Golden Gate Park, such as:
Lakes
A bison paddock
An archery range
Windmills
Mission Dolores Park

If you are looking for beautiful views of some of San Francisco's most beautiful districts, look no further than Mission Dolores Park. Its southern half boasts beautiful views of the Mission district, downtown, the San Francisco Bay, and the East Bay.
Encompassing 16 acres and lined with palm trees, the park is popular among locals for outdoor rest and relaxation. It features a picnic area, dog park, playground, outdoor basketball park, athletic field, and six tennis courts. You can also admire the beautiful architectural homes that cover the park's eastern, southern, and western sides.
Many outdoor concerts and other cultural events take place in Mission Dolores Park throughout the year, so it's great to check the calendar before you go.
Address: Dolores St &, 19th St, San Francisco, CA 94114
Charter Bus Parking: The cheapest nearby garage is the 16th & Hoff garage, which is about a six-minute walk to the park. With a charter bus, however, you and your group can simply be dropped off and picked up later. Easy!
Alamo Square Park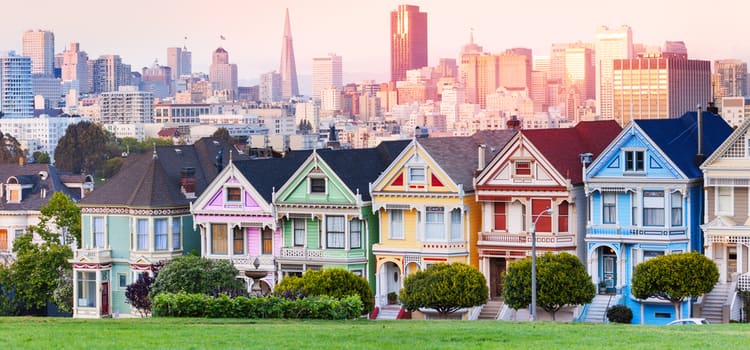 Alamo Square Park offers some of the most iconic views of San Francisco. This includes the famous "Painted Ladies" Victorian homes of Postcard Row, named for the view's popularity on San Francisco postcards. The hilltop has also appeared in many iconic TV shows and movies, including "Full House" and "Invasion of the Body Snatchers." Alice Walker, famed author of The Color Purple, also lived in one of the Painted Ladies up until the 1990s.
If you visit on a clear day, you will also be able to see the Transamerica Pyramid building and the top of the Golden Gate Bridge from the park.
In addition to the beautiful views, you can also enjoy colorful flower beds, abundant grass lawns, a playground, tennis courts, and a play area for dogs. You will also be able to catch a glimpse of the many natural springs that flow throughout the park.
Address: Steiner St & Hayes Street, San Francisco, CA 94117
Charter Bus Parking: There are several parking lots dotted around the park, and many are free of charge. The lots are small, however, and the park can get crowded. A charter bus would eliminate the need to secure parking, and allow your group to come and go as you please.
See San Francisco with San Francisco Charter Bus Company
Can't stop dreaming about your San Francisco trip? Let San Francisco Charter Bus Company help make your dream a reality. With us handling the logistics and helping you avoid the stress of parking and driving, we are here to help make your trip unforgettable. Give us a call today at 415-404-6456 and let's get started!
Do you need to rent a charter bus?