Group Visitor's Guide to Tech Destinations in Silicon Valley and San Francisco
Silicon Valley is synonymous with tech start-ups and giants constantly changing the way we work, live, and communicate. From Facebook and Tesla to Google and Netflix, it's no wonder tourists flock to the work campuses of these household names to see exactly where the magic happens. However, many tech companies don't allow public visits to their headquarters (they're busy getting work done after all!)—but don't let this stop you from exploring San Francisco's tech scene. There are still plenty of destinations you can go to fill your day and see into the lives of the city's biggest and brightest minds.
If you're planning a group visit to the Bay Area, San Francisco Charter Bus Company can pair you with the motorcoach or minibus you need to visit every spot on this list and more. Use this guide to map out a private hop-on hop-off charter bus tour of the most visitor-friendly technology companies in the city.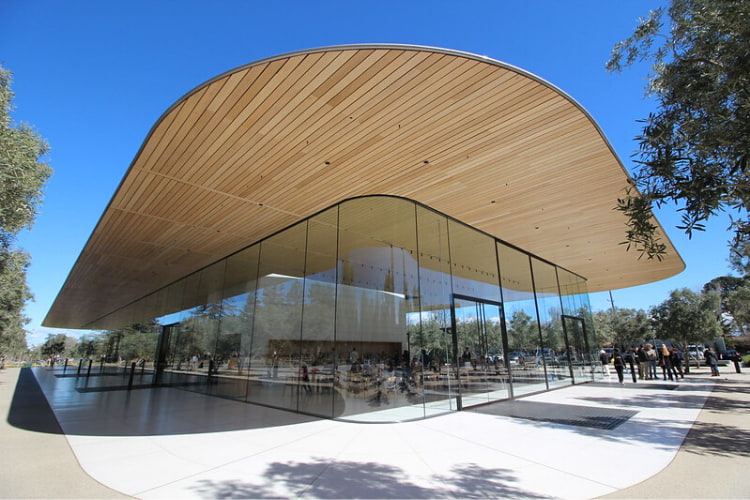 Apple Park Visitor Center
Address: 10600 N Tantau Ave, Cupertino, CA 95014
While the actual Apple campus is closed to the public, the Apple Park Visitor Center is a fascinating place to explore. The building itself is praised for its unique, modern architecture  and houses a cafe, a store, and immersive experiences. Explore a 3-D model of the campus using virtual reality, shop from a selection of location-exclusive Apple products and branded merchandise, or stroll the rooftop terrace and see the sprawling Apple Park grounds from new heights. Plan your visit around one of the many free Skills sessions where experts teach you techniques and tools for photography, video, coding, apps and more with Apple products.
Intel Museum
Address: Robert Noyce Building, 2200 Mission College Blvd. Santa Clara, CA 95054
The interactive Intel Museum at Intel HQ started in the early 1980s and is now open to the public with free admission. Visitors get to see what it's like inside an automated silicon chip factory and learn how Intel produces micro-miniature computer chips. The process for creating silicon chips requires air cleaner than is found in hospital operating rooms, so Intel manufacturers work in ultraclean, purified environments and wear special gear called "bunny suits." At the "Intel Fab" exhibit area, visitors can watch them in action via a flat-screen TV and even try on a "bunny suit" for themselves. To schedule a group tour, you can call 408-765-5050 or email museum@intel.com and make an advance reservation. Note that the minimum size for a group is 8 people and the maximum is 20.
Google's Googleplex
Address: 1600 Amphitheatre Pkwy, Mountain View, CA 94043
The Googleplex campus in Mountain View is the tech giant's largest facility and where most of the "Googlers" work. There are no official public tours here, but you're allowed to freely walk around the 12-acre campus and soak in the sights. Make sure to snap a few pictures at the Android Sculpture Garden: a lawn spotted with candy-colored robots representing every new Android operating system. Next door, at 1981 Landings Drive, is the Google Merchandise Store,  where you can stock up on Google-branded goodies like apparel, phone accessories and water bottles.
Computer History Museum
Address: 1401 N. Shoreline Blvd, Mountain View, CA 94043
Just outside the Google Campus you'll find the Computer History Museum, a fascinating look into the evolution of technology. The permanent exhibition Revolution: The First 2000 Years of Computing walks guests through the history of computer science "from the abacus to the smartphone." You'll see modern artifacts like the Apple-1 computer (created  in 1976 and signed by Steve Wozniak) and an Atari Pong Prototype, one of the first video gaming systems.
Group reservations need to be made at least 8 weeks in advance for docent-led tours through the Revolution exhibit. If you're more interested in a self-guided tour, groups can make a reservation 2 weeks in advance. You can also ask about special programs like workshops and lectures for adult learners or a one-hour scavenger hunt tour through the Revolution exhibit. (Groups also receive a 10% discount to use at the museum and cafe!)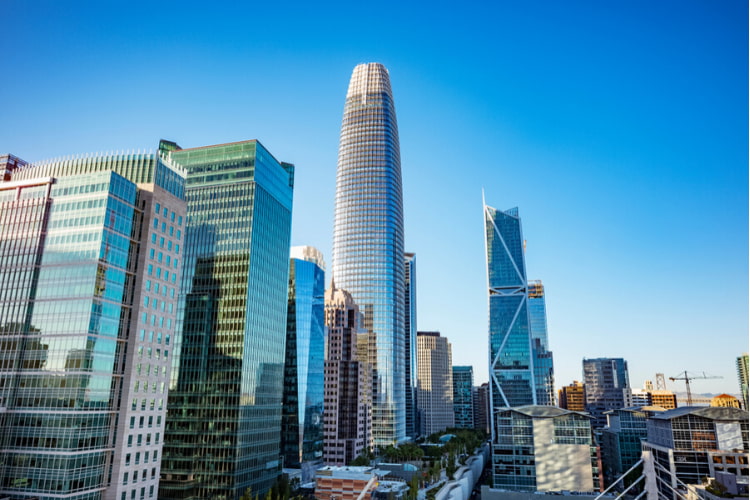 Salesforce Tower
Address: 415 Mission St, San Francisco, CA 94105
Climb to the top of the tech world with a community tour at Salesforce Tower, the tallest skyscraper in San Francisco and the headquarters for the cloud-based CRM platform. Tours take you to the 61st floor of the tower, known as the Ohana Floor, a two-story space with a kitchen, bars, and conference rooms where Salesforce employees decompress. 
However, it should come as no surprise that these tours are extremely popular—they are sold out months in advance and don't formally accommodate group requests. The tower  offers four one-hour tours a day with up to five people per party, so if you want to book a group you'll need to plan around these parameters. Visit salesforcetowertours.com to sign up to be notified about future tour dates, and reserve your spot as soon as it becomes available!
Facebook Thumbs Up Sign
Address: 1 Hacker Way, Menlo Park, CA 94025
While the Facebook Headquarters at Menlo Park isn't open to the public, what's a guide to Silicon Valley's tech campuses without a mention of the tech giant's home? The entrance to Facebook is at Bayfront Expressway and Willow Road, and on the right of the entrance is the famous Thumbs Up sign where you can pose for pictures. A group photo in front of the sign is a souvenir that's definitely worth the time to get.
Charter a Bus to San Francisco's Tech Campuses
Are you ready to hit the San Fran tech scene? Let San Francisco Charter Bus Company help you along the way. We can set you up with a charter bus rental with everything you need to stay comfortable and entertained between campus stops: plush and reclining seats, free WiFi, onboard lavatories, and more. Call our reservation specialists anytime at 415-404-6456 to reserve your charter bus and begin planning your tour of Silicon Valley and the Bay Area today.
Do you need to rent a charter bus?