5 Can't-Miss Spring & Summer Events in San Francisco
Whether you're visiting San Francisco or you live in the Bay Area, one thing's for sure: spring and summer are great times to be in the city. In the spring, the weather is mild and clear, and it's off-season for the tourists. Summer sees an influx of tourists, but longer days mean you have time to see everything on your bucket list.
It won't be hard to find something fun to do with the plethora of outdoor events to attend in the Bay Area between the months of March and September. To help you and your group plan the perfect itinerary in San Francisco, our team at San Francisco Charter Bus Company have come up with a list of our favorite, can't-miss events in the area.
San Francisco International Film Festival
What: The San Francisco International Film Festival is the longest-running film festival in the Americas. Whether you're visiting the Bay Area for a family reunion or looking for something fun to do with a big group of friends, this event will bring out your inner movie critics.
Where: The Castro Theatre, 429 Castro St., San Francisco, CA 94114
When: April
Price: General admission tickets range from $8 – $16, depending on age. Select programs may have non-regular pricing.
Fun Fact: The Castro Theatre was built in 1922 and became San Francisco Historic Landmark #100 in September 1976.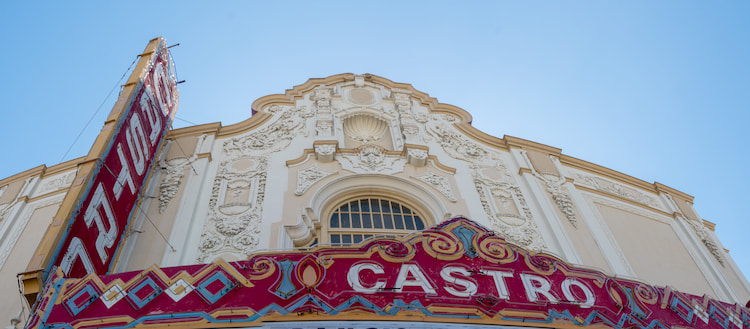 Insider Tip: Buy tickets in bundles and save big. Bundles are available in 6-packs and 10-packs.
Bus Tip: Want to pregame before the film festival? Keep the party going all the way to there by opting for a shared ride experience with San Francisco Charter Bus Company. The charter buses in our network can carry anywhere from 18-56 people. In most cases, you can even drink on the bus on the way there—just clarify with our reservation specialists ahead of time that you'd like to bring alcohol.
San Francisco International Beer Festival
What: The San Francisco International Beer Festival is the Bay Area's oldest beer festival with over 100 brewers, live music, complementary bites, games, and (of course) great-tasting beer.
Where: The Festival Pavilion at Fort Mason Center, 2 Marina Blvd., San Francisco, CA 94123
When: Mid April
Price: Ticket prices range from $60 to $330, depending on the type of ticket purchased (general admission, VIP, or a six-pack of general admission tickets).
Fun Fact: Since 1984, the beer festival has raised money for the Telegraph Hill Cooperative Nursery School. During the festival, enough money is raised to cover 90 percent of the preschool's operating expenses.
Insider Tip: People who volunteer at the event will not only feel great about supporting kids in the community, but they'll also get a T-shirt and their first beverage at the after-party for free.
Bus Tip: Let's face it… after drinking for three hours, you might have a little trouble getting home trying to call an Uber or taking public transportation. Leave the group travel logistics up to San Francisco Charter Bus Company! We can take you and your friends there and back home, so all you have to worry about is having fun.
Carnaval San Francisco
What: Carnaval San Francisco is a two-day festival that features a multicultural float parade, street performers, global cuisine, international music, dance, arts and crafts, and endless fun for kids and adults.
Where: Harrison Street, between 16th and 24th Streets (in the Mission District neighborhood). The parade begins at the intersection of 24th Street and Harrison Street and goes west on 24th Street, turning north on Mission. At 15th Street, performers turn back towards Harrison, where the parade ends.
When: Late May: the Saturday and Sunday of Memorial Day weekend
Price: Free. If you would like to enjoy the parade from a reserved grandstand seating area, tickets are $30.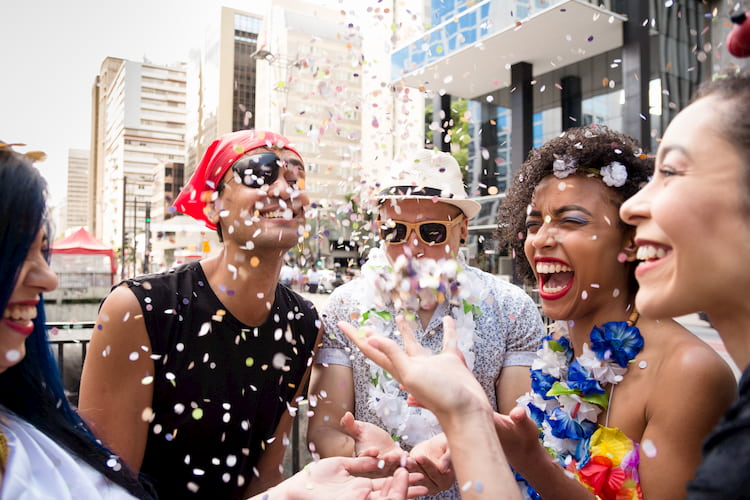 Fun Fact: Carnaval San Francisco began in 1979 and started out celebrating the commemoration of Caribbean, Central, and South American heritage. Over the years, the festival branched out to include Asian Pacific and Hawaiian communities.
Insider Tip: You can participate in Carnaval as a volunteer, dancer or drummer. Find out more information here.
Bus Tip: Due to lack of parking options, it is not recommended to drive your own car to the event. Taking a charter bus with your group will help you arrive relaxed and ready to celebrate. Your driver will take care of all of the details, so you can sit back, relax, and enjoy the ride to Carnaval San Francisco.
Clusterfest Comedy Festival
What: Comedy, podcasts and drag queens…oh my! Are you and your crew ready to have a night you won't forget? Then Clusterfest is the event for you. Taking place over the course of a three-day weekend, you'll be entertained by more than 50 acts on five stages celebrating all things comedy.
Where: Civic Center Plaza, 335 McAllister St, San Francisco, CA 94102 and the Bill Graham Civic Auditorium, 99 Grove St, San Francisco, CA 94102
When: Late June
Price: Ticket prices range from $119 to $280, depending if you are purchasing single-day or three-day passes.
Fun Fact: Past acts have included the hosts of the hit podcast, My Favorite Murder, standup comedian John Mulaney, former Brooklyn Nine-Nine star Chelsea Peretti and one of the stars of Netflix's Queer Eye, Jonathan Van Ness.
Insider Tip: There are a list of items you aren't allowed to bring into the festival, including mesh bags, alcohol, cameras, selfie sticks, coolers, and more.
Bus Tip: Parking in the area is tough, and if you're attending the comedy festival with a group of your closest friends or extended family, why worry about coordinating multiple Ubers? With a charter bus, you'll all be able to arrive at the same time and walk in together.
Outside Lands
What: Combining an eclectic lineup with world class food, art and wine, Outside Lands is a three-day festival that celebrates all things San Francisco.
Where: Golden Gate Park, San Francisco, CA
When: Early August
Price: Single-day general admission tickets start at $155. Three-day general admission passes start at $385.
Fun Fact: Ecoconsciousness is a big theme at Outside Lands, which is designed to educate the public about eco-friendly movements, from solar power stages to a bike valet parking program.
Insider Tip: You can buy refillable beer cups  to save on single-use plastic while at the festival.
Bus Tip: Outside Lands recommends rideshares, scooters or bikes to get to Golden Gate Park due to limited parking. Your group can opt to take a minibus to the festival to ensure you all arrive at the same time. You can even get hyped before the festival by asking your bus driver to blast your favorite artists that are going to be performing!
Rent a Charter Bus with San Francisco Charter Bus Company
Getting to any event in San Francisco is a daunting task with the traffic and unpredictable weather, but trying to coordinate arrival times for you and twenty of your closest friends takes it to another level. Don't stress trying to coordinate rideshares for everyone, only to have to try and meet up with people at the event. Instead, book a full-sized charter bus or minibus with San Francisco Bus Company. Call one of our reservation experts today at 415-404-6456 to plan your itinerary and get a free quote.
Many charter buses and minibuses feature reclining seats, overhead storage racks, TV monitors, WiFi, and so much more. If you have a special amenity request, let your reservation specialist know, and we'll find the perfect coach for you. If you want to arrive at your event feeling refreshed, contact us today. We're available 24/7 to assist you.
Do you need to rent a charter bus?