The 5 Best Outdoor Activities in San Francisco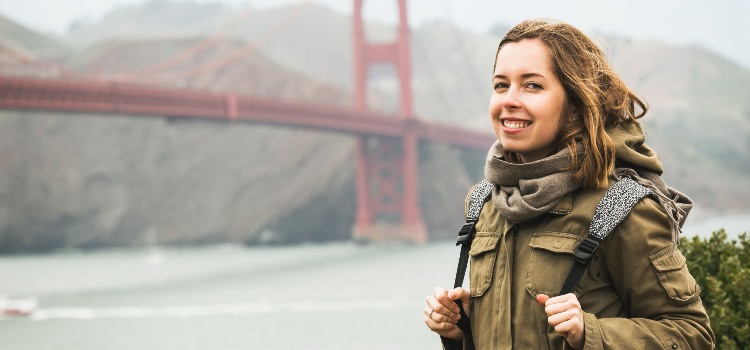 San Francisco is one of the most popular cities in California and is on many travelers' bucket lists of top places to visit from around the world. A compact city of steep rolling hills surrounded by water on three sides, San Francisco is renowned for its summer fog, Victorian architecture, cable cars, and towering vistas. Additionally, this Bay Area city hosts many iconic outdoor attractions that are perfect stops for tour groups who love the outdoors. There are a series of captivating views at every turn in this wild and windy city. From hiking trails around timeless city marvels to natural features in its coastal plains, vast ocean, and lush forests, the city has something for everyone.
San Francisco Charter Bus Company has experience in servicing all types of group trips in the San Francisco area. We'll guide you through our simple booking process for events of every kind, allowing trip planners to quickly rent buses for private outings, corporate events, wedding celebrations, school field trips, and more. Take to the streets on your schedule!
How to Get Around the Bay Area By Bus
When you're traveling through golden attractions and over bridges, consider taking a private shuttle instead of Uber or Lyft. Your driver can take you to any sites and attractions in or outside of the city, making you only a ride away from the most breathtaking views of the Bay. Though trains, subways, buses, ferries, and railways are also functional for short direct trips, they are not the quickest travel solution due to their long lines and unpredictable travel schedules. If you are arriving in a nearby city and plan to make your way to the Bay on your next trip to San Francisco, we recommend you take a San Francisco charter bus through the best routes in town. A private bus can whisk your group to top travel destinations with ease, while you relax and enjoy every step of the way through California's most beloved port city.
Travel Comfortably to Outdoor Activities in the Bay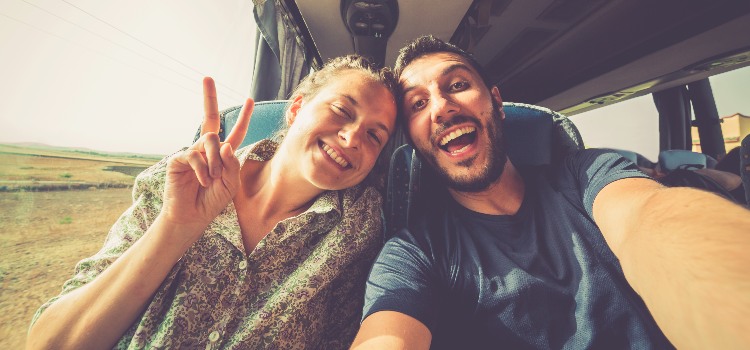 The most important step in planning your trip is choosing the right bus model for you. Outdoor trips can take weeks, sometimes months on the road before arriving at your destination, so ensure you'll be traveling comfortably on your journey. For smaller groups, we offer a wide selection of minibus models holding up to 25 passengers. The 56-passenger model, however, is our most-used charter bus for larger groups of students and volunteers due to its spaciousness.
If you're traveling for more than a few days, we recommend investing in a full-sized coach. Each model can come with modern luxury features such as climate-controlled interiors, cushioned reclining seats, overhead storage, and luggage bays beneath the bus. If you're traveling for business or school, you'll want to use our on-board WiFi, power outlets, and flat-screen TVs with DVD players to keep passengers entertained as they bond along the way. Whether you're planning an all-day shuttle service or a week-long road trip to a neighboring town, comfortable amenities make it easy to keep your group comfortable and relaxed as you travel together. We'll make sure you're paired with a reliable ride to make the event run smoothly!
Top Outdoor Attractions in the Bay
Not sure where to start your adventure? Grab a seat on our charter bus journey as we explore these special spaces that epitomize the heart of San Francisco. Follow along with our detailed overview of the top outdoor tourist attractions in the Bay area:
Golden Gate Park Trail
Address: Golden Gate Bridge, San Francisco, CA
Phone: (415) 391‑2000
Looking for the perfect angle of the Golden Gate Bridge? This park is a popular stop for photographers and tourists as it's the closest you can get to the bridge. However, getting to the Golden Gate Bridge Park can be a challenge as the entrance is hidden from the main road. But this unprecedented sight will have you constantly reaching for your camera!
San Francisco Bay Trail
Address: San Francisco Bay, California
Phone: (415) 391‑2000
Have your camera ready as you look out of your panoramic windows for the best sites San Francisco has to offer. This 500-mile trail around the bay runs through all nine Bay Area counties, spans 47 cities, and crosses seven bridges. Tourists enjoy hiking, jogging, and cycling along the path as it is one of the few routes that can take them around the entire San Francisco Bay.
Lands End Hiking Path
Address: 680 Point Lobos Ave, San Francisco, CA 94121
Phone:  (415) 391‑2000
Wondering what's the best hike in San Francisco? Lands End is a popular choice. With its unique angle of the city, you can catch a glimpse of every side of the Golden Gate Bridge from an unfiltered lens and a fresh pair of eyes. Immerse yourself in the natural side of the city in this paradise of coastal terrain. When you find it this will be a site that'll make your tires screech!
San Francisco Coastal Trail
Address: Coastal Trail San Francisco, CA 94129
Phone: (415) 391‑2000
This 8.8-mile Coastal Trail goes from Lands End to the Golden Gate Bridge and serves as a backtrail to get through San Francisco. Visitors often stop here to enjoy its beautiful natural features such as peaks, ocean views, and wildflowers. The trail offers a variety of activities for locals and tourists and is accessible year-round for photo ops and mountain trekking.
Point Bonita Lighthouse
Address: Sausalito, CA 94965
Phone: (415) 391‑2000
Explore the last manned lighthouse on the California coast, dating back from its founding in 1991. Point Bonita Lighthouse is a one-mile, heavily frequented trail located near Rodeo Beach, California that features an oceanfront path for pictures and recreation activities. The trail offers a number of activities and adventures year-round but is best suited for trips between September and May.
Reserve Your San Francisco Shuttle Today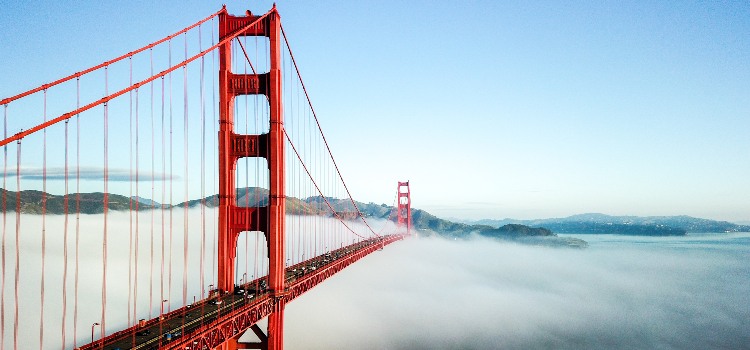 Ready to reserve your ride to 'Frisco? Whether you're in need of a private San Francisco shuttle to transport fellow road trippers from nearby cities like Oakland, or a fleet of charter buses to whisk everyone into town from across the Bay, we will pair you with a custom rental suited for your group's size and unique itinerary. No matter how many buses you need, we can build you a fleet of reliable vehicles. Book your private bus with one of our rental representatives for hassle-free travel arrangements. Call us at 415-404-6456 to book your seamless private ride through the sensational City by the Bay! We'll make it our mission to get you the best value for your bus.
Do you need to rent a charter bus?